In São Paulo, 80,000 people attend third edition of Free Lula Festival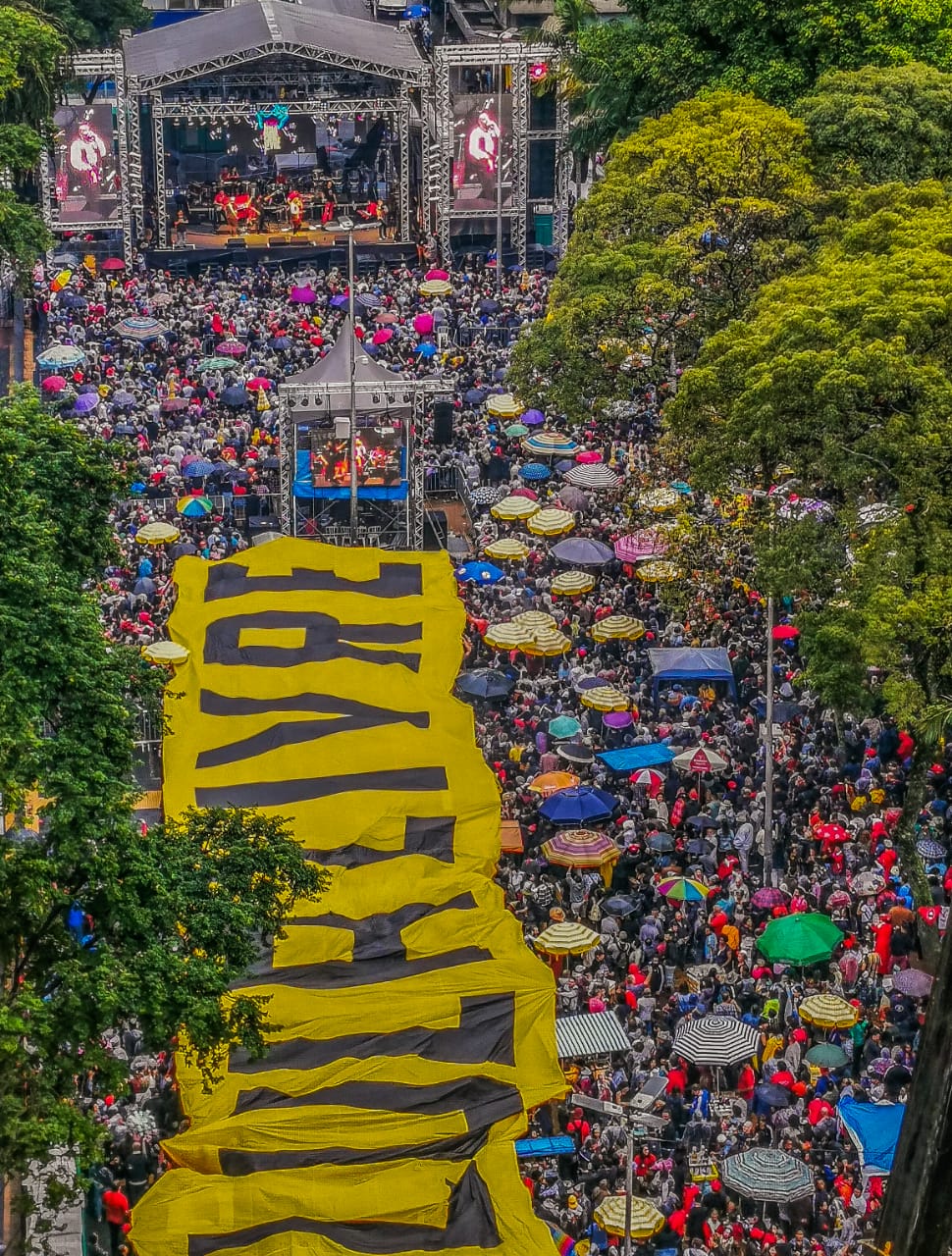 June 3, 2019
More than 80,000 people attended the third edition of the Free Lula Festival in downtown São Paulo | Photo: Ricardo Stuckert.
It was a rainy Sunday in São Paulo, but that didn't stop the nearly 80,000 people who attended the third edition of the Free Lula Festival in the center of the city, where several artists performed during the day in support of Brazil's former president, Luiz Inácio Lula da Silva, who has been in prison since April last year. The audience shouted words of support for the ex-president throughout the day.
"This is a historic moment. Lula's imprisonment is nothing but the deprivation of our freedom of speech. Everyone knows that Lula has a lot of people by his side, and from the moment they arrested him, they also arrested our voice, someone who speaks for us and helps us go further," said Mel Duarte, a poet and member of the Slam das Minas – The Ladies' Slam.
The artists who performed in the festival reiterated how Lula's imprisonment is political and underscored some of his policies to fight inequality and value culture.
Singers/songwriters Bia Ferreira and Doralyce played "Cota não é esmola" – "racial quotas are not charity" – by Ferreira, a song that defends affirmative actions for higher education, a policy that was pushed during the Lula administrations.
"Being here today, the feeling is of gratitude, because if we do what we do today, that's because we had the opportunity to have access to information. And that access was only possible after the Lula administration, and that has to be said. Many black people had access to education, culture, health. And we cannot forget, we cannot let it die, all the things this man has done for black people, in an attempt to achieve racial equality in Brazil," Bia Ferreira said.
The organization of the event celebrated the diversity of demonstrators. Paulo Okamoto, the president of the Lula Institute, said that "a festival like this, with so many artists, so many musicians addressing the unfair imprisonment of an innocent man like Lula – it's an extraordinary thing, because it's a different way to draw other people's attention to the issues our country has been facing. A country that is facing attacks on civil rights, education, and health."
The audience called for justice for Lula throughout the day. Ruane Gomes, a social worker who drove about two hours from her hometown, Limeira, to attend the rally, pointed out the lack of evidence to convict Lula.
"We have proof enough that none of the evidence [presented in the case] could really show that Lula committed any sort of crime. And if there is no evidence, there is no reason to keep him in jail," Gomes said.
The ex-president and Workers' Party leader sent a letter to the festival, which his grandson Tiago read onstage. "I thank with all my heart each and every one of you, artists and audience, who came together on June 2 to turn the Republic Square into the Democracy Square. While it's called 'Free Lula Festival,' I know this is so much more than an act of solidarity with a political prisoner. What you demand is much more than Lula's freedom. It's about the freedom of a people who won't accept being the prisoner of hatred, greed, and obscurantism," the former president wrote.
Read here the letter from ex-president Lula to the participants of the Free Lula Festival.
*With reports by Igor Carvalho | Edition: Mauro Ramos | Brasil de Fato.