A flashmob-style Free Lula gathering at the San Isidro Festival, in Madrid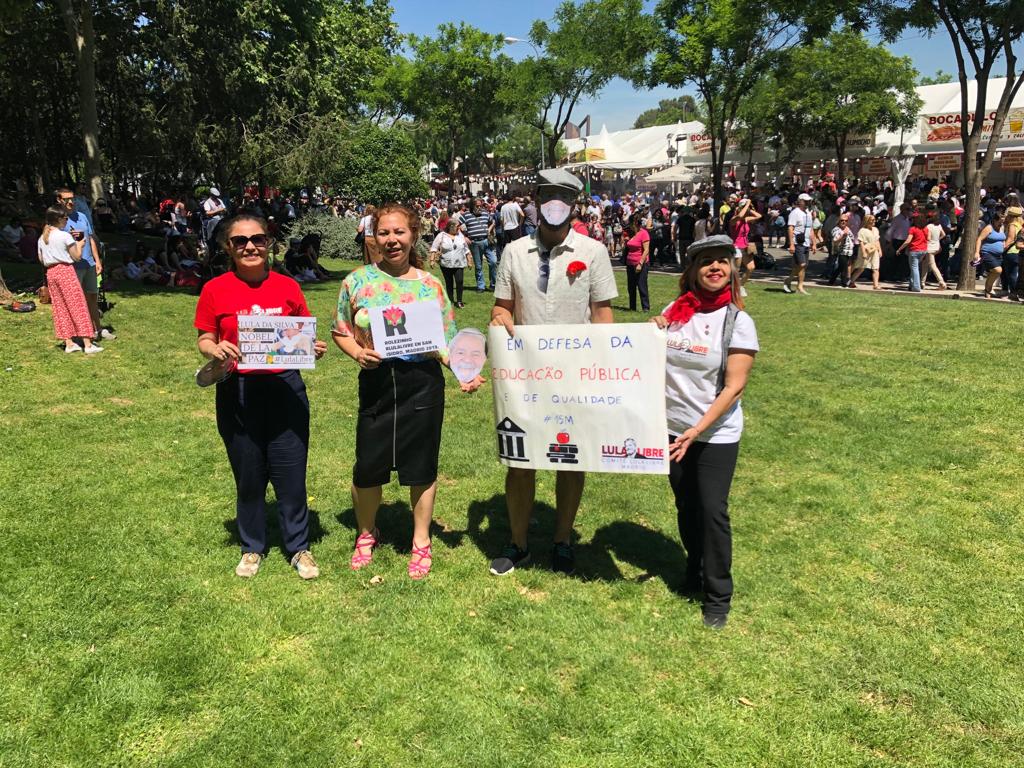 May 15th 2019 was a day of protests in Brasil, in defence of Education and against the Social Welfare Reform, however it was also a very meaningful day in Madrid, Spain, as it is the day the patron saints are celebrated. Besides that, May 15th is also the symbol of the fight of the "outraged" Spanish youngsters that in 2011 camped in the Praça Puerta del Sol, in Madrid. In Sol there is the headquarters of the Autonomous Community, a government body equivalent to the Brazilian state, it is also a Spanish landmark and the exit to all the country's roads, avenues and highways. This movement gave rise to the Partido Podemos and its offshoots, starting a resurgence in Spanish politics.
Many people take part in the San Isidro festival which takes place in San Isidro park with cultural events, a crafts fair and local cuisine. The reason why San Isidro festival was more political this year is the proximity of the local elections and for the Autonomous Community, which happens on May 26th.
In this festive and at the same time political atmosphere, Committee Lula Libre Madri carried out a "flashmob-style Free Lula at the San Isidro Festival in Madrid in 2019", where the participants went to the streets to demand ex-president Lula's freedom and claim his innocence.
Happening and Flashmob
Happening is a theatrical performance, live theatre aimed at a targeted audience, in an improvised way and with a specific agenda. The chosen term "rolezinho", which means "take a walk", is a reference to freedom and the "right to come and go", a right we demand for Lula. It is also a reference to the black Brazilian youngsters, who find, in this type of organisation, a way to break the social barriers and to enter into spaces allocated only to the elite, like the big shopping centres. These acts, organised by those who are the most damaged by social inequality and by the dismantling of education, many times end up in violence and police abuse. This reinforces the death statistics for black and poor youngsters those who live in slums and the peripherals, who are in the hands of the authorities and militias and the impunity that surrounds this matter. For this reason, the term flashmob holds this transgressive character, however, it is more like a denunciation.

And because it is a day to fight for education and for a more just and egalitarian society, it is impossible to not to go back to ex-president Luiz Inácio Lula da Silva, who in his government built several Federal Universities all over the country and created programmes to promote social justice.
Actions taken
The Comité Lula Libre Madri developed activities with ex-president Lula masks and posters with poetic messages for a flashmob during San Isidro Festival, taking photos and talking to people.
At the end, there was a poster parade, with masks, with the intent to touch people's conscience to the injustice lived by Lula today, a prisoner in Curitiba, separated from his social and political activities, exactly in one of the most dramatic moments in Brazilian history. Convicted without proof, by Sergio Moro and the Car Wash Operation for "indeterminate crimes" as a figure in the Kafkanian process in which he, more than a defendant, is the victim figure. Lula claims his innocence and like all the #LulaLivre movements, still waits for justice.
Check out the photos:
Elizabeth Firmino Pereira, actress, art educator and researcher. Graduated in Artistic Education/ Performing Arts-IA/Unesp, São Paulo and doctorate in Performing Arts – Universidade Rei Juan Carlos, Fuenlabrada, Madrid. She has lived and worked in Madrid since 2007.
Photos and videos by: Comité Lula Libre Madri | Translated by Cleusa Vicente, Free Lula UK Committee.