Human Rights Groups call act for the freedom of Political Prisoners in Buenos Aires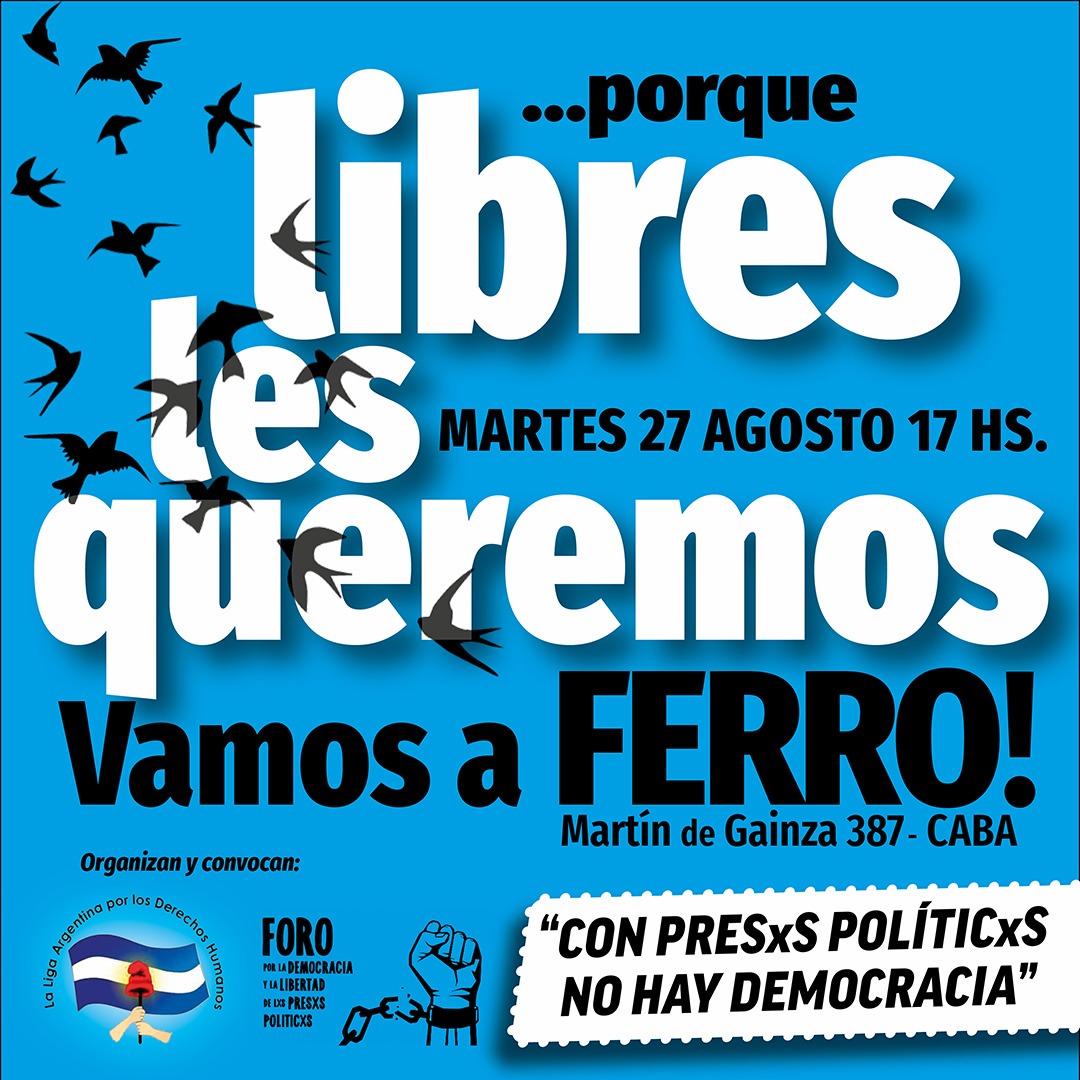 #LibresLesQueremos (WeWantYouFree) is the act in defense of freedom of political prisoners, organized by the Forum for Democracy and Freedom for Political Prisoners and the Argentine League for Human Rights. Among other participant civil society organizations is the Lula Libre North Zone BsAs International Committee.
The event, which will take place on August 27 at 5 pm, and aims to highlight the plight of Political Prisoners. The program will be available through Facebook page of Forum for Democracy and Freedom for Political Prisoners.
An example of political imprisonment in Argentina is Milagro Sala, the first political prisoner of the Macri administration. And in the case of Brazil, that of former President Luiz Inacio Lula da Silva, arbitrarily arrested without evidence is highlighted.
The organizations leading the event expect the act #LibresLesQueremos to take place regularly. The last edition took place on July 2, 2019, at the Teatro Roma, and featured several political and cultural interventions in a Solidary Artistic Festival night.
The Forum is a group of civil society volunteers, politicians and trade unions, among others, who have joined forces with the relatives of the political prisoners to give visibility to the problem, follow the judicial processes and to organize visits to the political prisoners. The Forum started in November, 2017. The Argentine League for Human Rights, is a group established in 1937 to fight for Human Rights, and has been working since.
In a context of growing authoritarianism in Latin America, with the rise of governments that systematically violate the human rights of their citizens, the demonstration has extreme relevance. In this moment, Latin Americans need to unite and organize actions to fight the political and judicial persecution faced by social and political activists, the deterioration of democracy, the criminalization of social movements, censorship and repression, in addition to defend the democratic rule of law and the release of political prisoners. After all, #ConPresxsPoliticsxsNoHayDemocracia (#WithPoliticalPrisonersThereIsNoDemocracy).
---
When: 27 de agosto de 2019
Time: 17hrs
Where: Clube Ferro Carril Oeste. Rua Martín de Gainza, 387 – Buenos Aires, Argentina
Free
Translated by the Free Lula Committee USA.