Argentinian former president Duhalde: "I will be here when Lula's freed"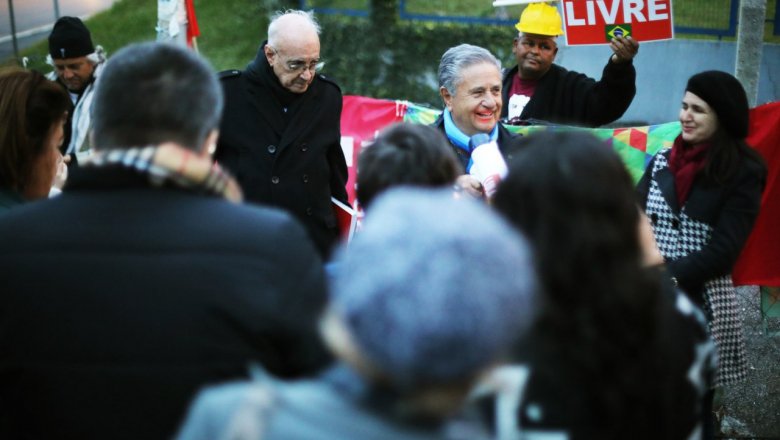 July 19, 2019
Photo: Joka Madruga
Writer Emir Sader and the former president of Argentina, Eduardo Duhalde, left the headquarters of the Federal Police of Curitiba shortly before 6 p.m last Thursday (18). They were smiling and enthusiastic, although the place and circumstances that led them to visit former President Lula are not at all motivating.
Happiness, however, is justified by both. "I have a special affection for Lula. He is my only friend outside of Argentina and has spent his entire government fighting for Latin American integration. I'm very happy to meet him", sums up Duhalde. "You can imagine how exciting it is to meet Lula. But now it is touching and absurd because the person who should be governing this country is imprisoned here unfairly", he adds.
The Argentine friend, who became president at a turbulent moment in the history of the neighboring country between 2002 and 2003, met Lula for the first time in political prison and reiterated the point of view of all who visit him in Curitiba: "I saw him strong and certain that he will come out even stronger. It is for him that we work together. And for him I will be here when he's freed. Freedom and dignity are not negotiable. "
For Sader, the former Brazilian president confided a concern that is increasingly gaining strength in the face of systematic setbacks imposed by the misrule of Jair Bolsonaro. "Lula senses as urgent the need of a more acute and systematic response from the popular movements. For him, this government gives us every day a new reason to mobilization. Lula invited us to increase popular mobilization ", he warns.
Petition
In face of the series of arbitrariness, injustices and unconstitutionalities promoted against former President Lula, since the beginning of the "triplex case", the Free Lula Committee launched a petition on July 2 that calls for the immediate annulment of the trials that led to his arrest. On Thursday, both Sader and Duhalde left their support for the initiative by signing the document at the Free Lula Watch.
Workers Party | Translated by Beatrice Weber. Revision: Maurício Pupo.