Activists call for justice for Lula on anniversary of Declaration of Human Rights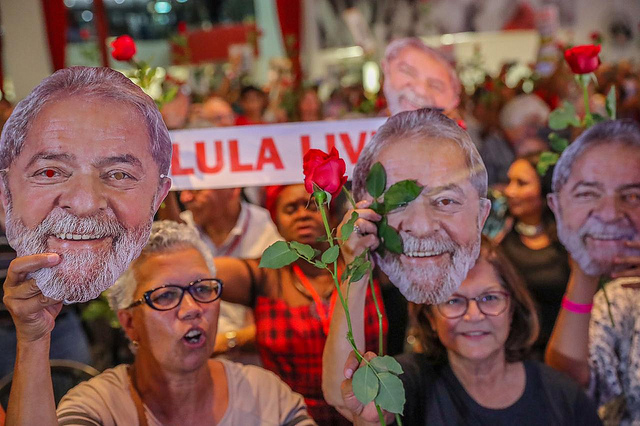 Ler em português | Leer en español
As the world celebrated 70 years of the Universal Declaration of Human Rights yesterday, Dec. 10, a number of rallies and demonstrations took place in Brazil on the National Day of Struggle to Free Lula.
A rally was held last night at the headquarters of the Metal Workers' Union of the ABC Area, in São Bernardo do Campo, São Paulo, the same place where former Brazilian president Luiz Inácio Lula da Silva delivered a historical speech in April before turning himself in to the police to start serving a 12-year sentence imposed by judge Sergio Moro.
The date and the venue were not chosen by chance. Eight months after Lula's arrest, hundreds of activists once again gathered at the union headquarters to expose the injustices committed against the Workers' Party leader.
A lawyer and friend of Lula, Luiz Eduardo Greenhalgh addressed the audience and recalled that the process that took the ex-president to prison was marked by arbitrary decisions aimed at stopping him from running for office in Brazil's 2018 elections, making sure to perpetuate the coup.
"The judge that called himself a judge, who [allegedly] only ruled based on what was on the record and had no political motivation, is now the [appointed] minister of Justice of [president-elect Jair] Bolsonaro. Now we know the reason behind the persecution [against Lula]," Greenhalgh said. The lawyer argued that, as Lula did not receive a fair trial, Brazil was hijacked by a group that is willing to serve the interests of the bourgeoisie and persecute left-wing organizations.
The representative of the national board of the Landless Workers' Movement (MST) Raul Amorim pointed out that the National Day of Struggle to Free Lula needs class solidarity to stay the course. "The [Free Lula] committees must gather and fight the battle of ideas. Reach out to the outskirts, to the grassroots. There needs to be grassroots work every day," he said.
For the national chair of Workers' Party, Gleisi Hoffmann, her fellow party member Lula is a symbol of the struggle for a country with more equality and development. "As he [Lula] told us here in this union eight months ago before he decided to [turn himself in to] go to prison, 'I'm not myself, I'm an idea, and ideas travel the world.' It's his idea that is here among us. The idea that the people can have and enjoy rights," she said.
By the end of the rally, the Workers' Party presidential candidate in the country's recent election, Fernando Haddad, read a letter sent by the ex-president to activists: "I will not exchange my dignity for my freedom," Lula wrote, possibly referring to recurring cases of immunity-seekers who turn state's evidence in Operation Car Wash.
Edition: Daniel Giovanaz | Photo: Ricardo Stuckert | Brasil de Fato