In Rome, jurists, scholars and Italian politicians call for Free Lula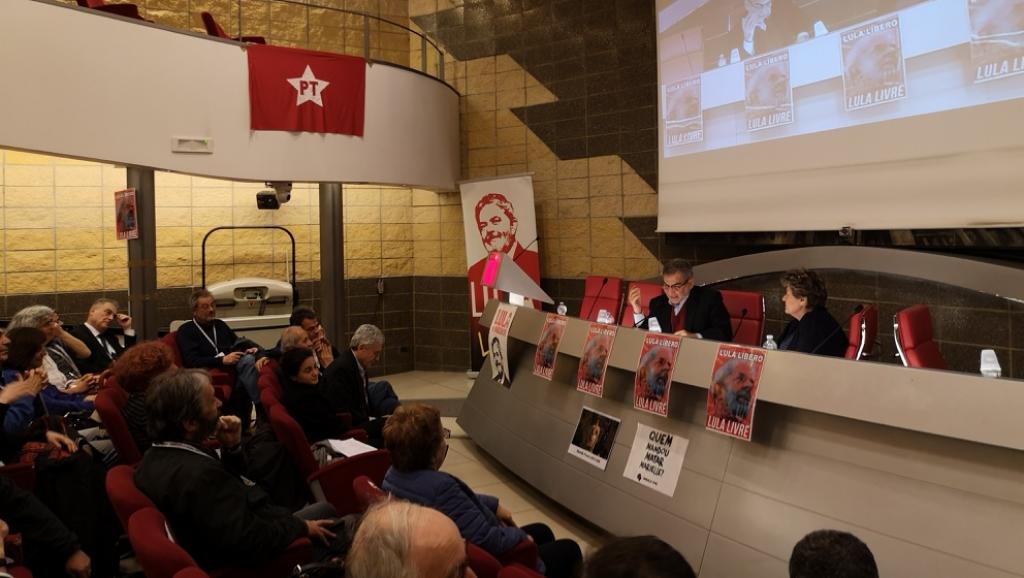 06 de April de 2019
Photo: Gina Marques/RFI
The International Free Lula Committee held a manifestation this Thursday (April 4th), with over 30 Italian scholars, jurists, politicians, and union leaders. The act calls for freedom for former president Luiz Inácio Lula da SIlva, who has been for almost a year a political prisoner in Curitiba, Brazil. Gilberto Carvalho, former Secretary-General of the Brazilian President, from 2011 to 2015, during Dilma Rousseff's administration, joined the act.
Radio France International (RFI) reports the event took place in the Italian General Labor Confederation's (CGIL) HQ, the largest union in Italy with over 5.5 million members. During the manifestation, which assembled over 200 people at the CGIL auditorium, a brief video was screened, narrating the former president's story, and,next, a letter sent by Lula to the International Lula Livre Committee was read.
RFI highlighted the part of the letter in which Lula points out that "moralists with no morals now hold offices and power in the new administration, which was elected only because my candidacy was banned. But who is in prison is Lula, who never owned the apartment or the land, who never signed contracts with Petrobras, who never had secret bank accounts such as those from the foundation that was now made public".
Italian former Prime Minister, and personal friend of Lula, Massimo D'Alema, and Bologna University Professor Roberto Vecchi, who specializes in Brazilian culture, also joined the act and pointed out that Lula's unfair imprisonment is a danger for democracy in Brazil and for democracies all over the world.
Using the Judiciary to legitimize coups d'état
CGIL's former secretary-general, and current international relations manager for the confederation, Susanna Camusso, recalled the visit she made to the Free Lula camp and pointed out that Lula's political imprisonment compromises Brazilian democracy. "We were in Curitiba at the camp in front of Lula's prison. We want Lula free and protesting against the use of the Judiciary to legitimize a coup d'état and to prevent the return of fascists regimes".
Dilma's former secretary gave a speech to claim Lula's innocence, as it is now over 5 years of Carwash operation investigations and no proof has been presented so far. Carvalho also recalled the former president is the main agent of combating poverty in Brazil, something which upset the country's ruling class.
"What was imprisoned was not just Lula, but a project of social inclusion. We have to unite the call for Lula's freedom to the call against the criminal social security reform [which is being pushed by the current administration]". During the event, a video message from the UN Food and Agriculture Organization's director, José Graziano da Silva, was played, thanking Lula's projects to combat hunger, which were successfully implemented in Africa.
Another greeting to the Italian fellows was sent by Central Única dos Trabalhadores (CUT – Brazil's largest union confederation), Vagner Freitas, who criticized the social security reform which is being pushed by Brazil's government. "It is not only Brazil that is suffering from workers conditions deteriorating; Italy is going through it as well".