Brazilian Solidarity Initiative at the House of Commons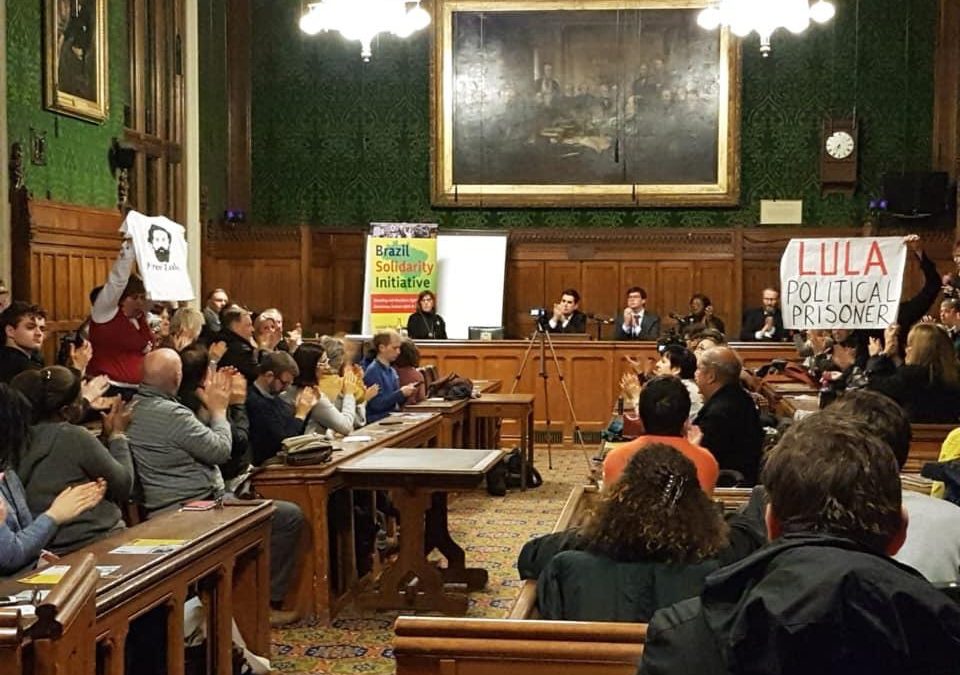 Ler em português
"Brazilian Solidarity Initiative" was launched last Tuesday on 20th November in an event inside the House of Commons, with speeches by many politicians from Labour Party, trade unionists, students, journalists and also by a representative of Brazilian Workers Party in London (PT Londres). The British politicians and activists have shown their solidarity with Brazilian people, raising their concerns about the future of social programmes and the democracy in Brazil. Many of them denounced the political-motived imprisoned of Lula, as well as the increase in violence against minorities such as indigenous people, afro-Brazilian, LGBTQ, women and the persecution to left-wing activists.
The speakers of the event were Emily Thornberry (Shadow Foreign Secretary), Baroness Jean Ann Corston PC, Chris Williamson MP, Dan Carden MP e Richard Burgon MP, all from Labour Party, Julia Felmanas from Brazilian Workers Party (PT Londres), Stephen Russell – TUC, Christine Blower – NEU/NUT Section, Daniel Hunt journalist, Brasilwire editor, Myriam Kane Diop– NUS.
The event was attended by more than three hundred people that packed two big rooms in the House of Commons. The public were a mix of British and Brazilian people, and many of them were activists from local groups, such as Comite Lula Livre UK – FREE LULA, Democracy for BRASIL UK, PT Londres, that expressed themselves with posters and t-shirts asking freedom for Lula, which together with many other groups are building a network of solidarity of left activism to fight against fascism and for democracy in Brazil.
"Brazilian Solidarity Initiative"  has been active in campaigning against the removal of elected President Dilma Rousseff, and in solidarity with those now struggling for democracy and social progress in Brazil. (Based in Britain).
Photo: Brazilian Solidarity Initiative