Angela Davis joins the international movement demanding Lula's freedom in Brazil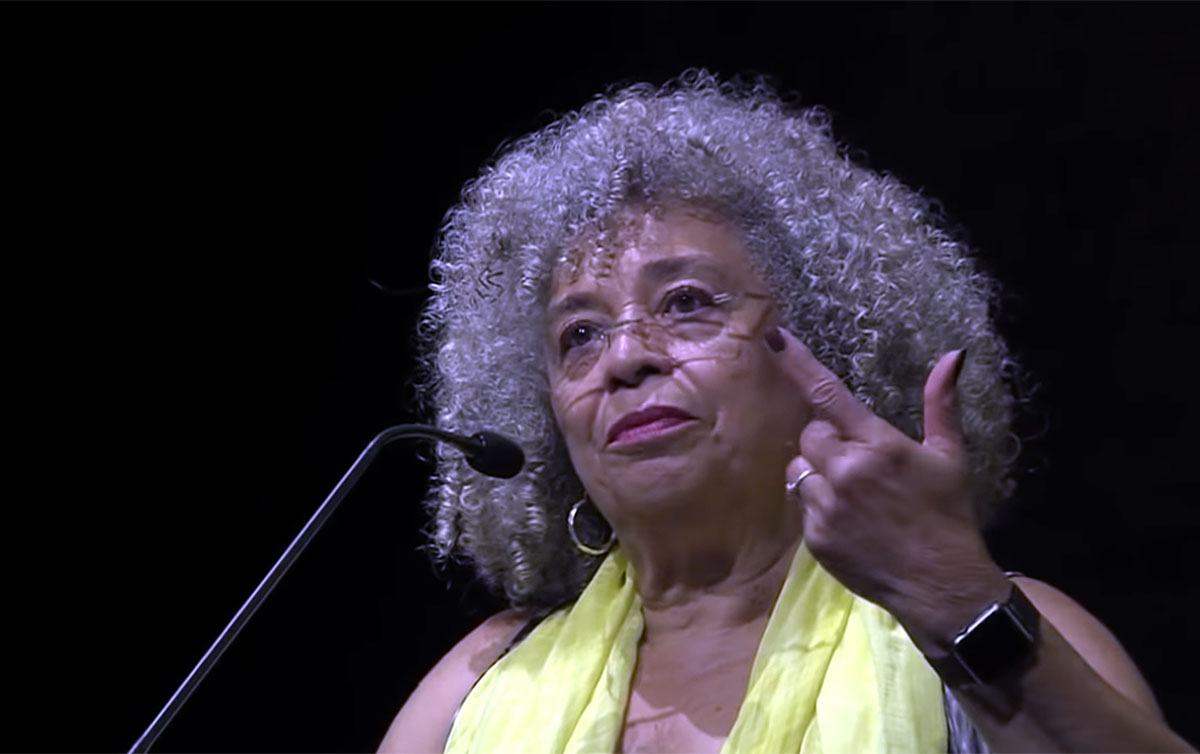 United States' writer, activist and intellectual Angela Davis joined the international campaign for the freedom of Brazilian former president Luiz Inácio Lula da Silva, during the closing plenary of the international congress 'Democracia em Colapso?' (Collapsing democracy), that took place in the city of São Paulo, Brazil.
As she raised her wrist, Angela, who is a philosophy professor at the University of California, and has been herself a victim of unfair imprisonment, welcomed when the audience yelled free Lula, who has been in prison since April 7, 2018.
Watch the video:
Angela also expressed her solidarity with Janice Ferreira da Silva, also known as Preta, a leading organizer of the Homeless People's Movement (Movimento dos Sem Teto – MTST), recently released by an "habeas corpus" still imposing restrictions to her rights.
She also spoke about Marielle Franco, the Rio de Janeiro's council representative from the Socialism and Freedom Party, murdered in March of 2018.
'When I spoke in Goiânia (capital of Goiás state), even though people were mourning Marielle, and for the Coup against Dilma Rousseff and for Lula's imprisonment, I could see people were determined in their fight for freedom', said Davis in a packed room in Serviço Social do Comércio (SESC) in São Paulo.
Davis highlighted that 'Marielle knew that freedom is a constant struggle that is kept alive by all who fight against homophobia, racism and other forms of oppression'.
During the event, the philosopher pointed similarities between the governments of Jair Bolsonaro and Donald Trump, and said the Brazilian far-right politician seems to identify himself with military dictatorships.
Angela stated that capitalism is destroying the planet and democracy remains a minority of the system. She explained that 'democracy, both in the United States and Brazil are racist democracies, because they exclude african-descendents, are misogynistic because they exclude women, and are elitist because they exclude the poor, even the white men, in addition to excluding people with special needs'.
Organized by Sesc and Boitempo Publishing, the event brought together 50 people from Brazil and abroad to a comprehensive debate during 5 days, discussing origins and different historical, political and social perspectives that define democracy.
During her brief stay in Brazil, the writer will tour with her Autobiography, published originally in 1974, when she was 28 years old.
The piece is an important documentation of the social struggles in the United states in the 1960's and 70's, period in which she became an icon of the Movement for Black Liberation.
In Rio de Janeiro, Angela, winner of the Lenin Peace Prize in 1979, will give a talk on October 23rd , and will receive the Tiradentes medal, an honorable award from Rio de Janeiro State's congress.
Davis joined the political party of the Black Panthers. In 1947, she joined the central Committee of the American Communist Party.
Prensa Latina | Translated by the Free Lula Committee USA. Revision: Marc Cabioch