Say No to Jair Bolsonaro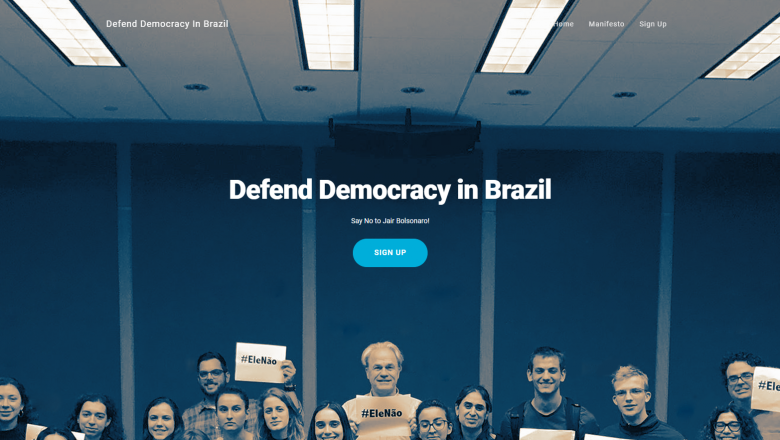 Leer en español | Ler em português | Lire en français
We, citizens, intellectuals, activists, politicians, people living, working, and studying in Europe and Canada, wish to express our growing alarm at the imminent threat of Jair Bolsonaro's election to the presidency on October 28, 2018. The potential victory of a far-right radical in Brazil would reinforce a dangerous international trend of extremely reactionary and anti-democratic politicians gaining state power in recent years.
Bolsonaro explicitly defends the Brazilian military dictatorship that ruled the country from 1964-85 and praises torture and torturers. He condemns human rights efforts. He has expressed aggressive and vile hostility toward women, people of African descent, the LGBT+ community, indigenous people, and the poor. His proposed policies would effectively undo all of the political, social, economic, labor, environmental, and cultural gains of the last four decades, efforts by social movements and progressive politicians to consolidate and expand democracy in Brazil. A Bolsonaro presidency also threatens to undermine the still fragile democratic politics that people throughout Brazil have risked so much to build.
His election would seriously hamper any ambitious international effort for environmental protection, against climate change and for the preservation of peace.
Adapted version of the text « Defend Democracy in Brazil, Say No to Jair Bolsonaro! »
First Signatures
Acker, Antoine, maître assistant en histoire à l'Université de Zurich (Switzerland)
Alija Fernandéz, Rosa Ana, Reader in Public International Law/Profesora de Derecho Internacional Público – Universidad de Barcelona (Spain).
Allen, Irma, doctoral researcher, KTH Royal Institute of Technology, Stockholm, (Sweden)
Andersen, John, Professor Roskilde University (Denmark)
Armiero, Marco, Director, Environmental Humanities Laboratory, KTH Royal Institute of Technology, Stockholm (Sweden)
Asara, Viviana, Assistant Professor at the Vienna University of Economics and Business
Aouillé, Sophie, Psychanalyste (France)
Assassi Eliane, Sénatrice Seine-Saint-Denis (PCF) et présidente du groupe CRCE au Sénat (France)
Aubry, Martine, Maire de Lille, ancienne ministre (PS), (France)
Autain, Clémentine, députée de Seine-Saint-Denis (LFI)
Aviragnet, Joël, Député de la Haute-Garonne (PS), (France)
Backhouse, Maria, Assistant Professor, Department of Sociology, Friedrich Schiller University of Jena (Germany
Bagayoko Bally, maire adjoint de Saint-Denis (LFI) (France)
Balibar, Étienne, Professeur émérite (philosophie), Université de Paris-Ouest (France)
Batho, Delphine, Députée des Deux-Sèvres, ancienne ministre de l'écologie, du développement durable et de l'énergie (France)
Bechtum Alexandra, research associate, University of Kassel (Germany)
Bello, Huguette, députée de la Réunion (PLR), (France)
Benbassa, Esther, sénatrice de Paris (EELV)Benbassa, Esther, sénatrice de Paris (EELV)
Bidard, Hélène, maire-adjointe de Paris (PCF), (France)
Bleil, Susana, maîtresse de conférences en Portugais et civilisation du Brésil à l'Université du Havre (France)
Boccara, Frédéric, économiste, membre du Conseil économique, social et environnemental (France)
Boidin, Capucine, Professeure d'anthropologie, IHEAL/Université Sorbonne Nouvelle – Paris 3
Boissière, Anne, professeure de philosophie à l'Université Lille (France)
Boltanski, Luc, Professor in moral and political sociology, EHESS (France)
Bocquet, Eric, Sénateur du Nord (PCF), (France)
Braouezec, Patrick, président de Plaine Commune, président du Conseil de surveillance de la Société du Grand Paris, membre honoraire du parlement français (France)
Brossat Ian, maire-adjoint de Paris (France)
Brotherson Moetai, député de la Polynésie française (GDR), (France)
Bruneel Alain, député du Nord (PCF) (France)
Buffet, Marie-George, Députée de la Seine-Saint-Denis (PCF), ex-ministre de la jeunesse et des sports (France)
Buerk, thomas, professor, social work |diversity – integration- Inclusion IB Hochschule Berlin (Germany)
Burke, Peter, Historien, Professeur émérite à l'Université de Cambridge (United Kingdom)
Cahen, Michel, directeur de recherche au CNRS à Sciences Po Bordeaux (France)
Caloz-Tschopp, Marie-Claire, professeure de philosophie à l'Université de Lausanne, ancienne directrice du Programme Collège International de Philosophie (Suisse)
Calvão, Filipe, Assistant professor of anthropology and sociology, IHEID Geneva (Switzerland)
Cambadelis, Jean-Christophe, Premier vice-président du Parti socialiste européen, député honoraire de Paris, ancien Premier secrétaire du Parti socialiste (France)
Campelo, Erika, Responsable de projet associatif et co-présidente d'Autres Brésils (France)
Capanema, Silvia, maîtresse de conférences en Portugais et civilisation du Brésil à l'Université Paris 13, conseillère départementale vice-présidente de Seine-Saint-Denis (France)
Chartier, Roger, directeur d'étude EHESS/Collège de France
Chassaigne, André, député du Puy-De-Dôme (PCF), (France)
Chiodi, Vera, Maîtresse de conférences en économie à l'IHEAL/ Université Sorbonne Nouvelle – Paris 3 (France)
Chirio, Maud, maîtresse de conférences en histoire contemporaine à l'Université Paris-Est Marne-la-Vallée (France)
Clapot, Mireille, députée de la Drôme, Députée de la Drôme, Vice-Présidente de la commission des Affaires étrangères (LREM), (France)
Cohen, Laurence, sénatrice du Val du Marne (PCF), (France)
Collombat, Pierre-Yves, Sénateur du Var (LFI), (France)
Compagnon, Olivier, Professeur d'histoire contemporaine, directeur de l'Institut des Hautes Etudes d'Amérique Latine (France)
Conway, Janet, Canada Research Chair in Social Justice (2013-18), Professor of Sociology, Brock University (Canada)
Conway-Mouret, Hélène, sénatrice des Français de l'étranger (PS) et ancienne ministre (France)
Coquerel, Eric, député de la Seine-Saint-Denis (LFI), (France)
Cordebard, Alexandra, Maire du 10e arrondissement de Paris (PS), (France)
Dabène Olivier, professeur de science politique à l'Institut d'Études Politiques de Paris (Sciences Po), chercheur au Centre d'Étude et de Recherches Internationales, FNSP. Président de l'Observatoire Politique de l'Amérique Latine et de la Caraïbe (OPALC), (France)
D'Aoust, Marie-Alice, avocate au barreau du Québec, Montréal (Canada)
Daudigny, Yves, sénateur de l'Aisne (PS)
Davisse, Françoise, réalisatrice (France)
Delcourt Laurent, chercheur au Centre tricontinental – CETRI (Belgique)
De Saint-Martin, Monique, directrice d'études en sociologie à l'EHESS (France)
De Temmerman, Jennifer, Députée du Nord (LREM), secrétaire de la commission Développement durable et aménagement du territoire (France)
Dharreville Pierre, député des Bouches du Rhône (PCF), (France)
Domínguez, Pablo, Senior Researcher at CNRS, Laboratoire Géographie de l'Environnement (GEODE), CNRS / Université de Toulouse 2 (France)
Dorlin, Elsa, Professeure de Philosophie à l'Université Paris 8 Vincennes Saint-Denis (France)
Douville, Olivier, professeur psychanalyste Université Paris Diderot (France)
Duarte-Plon, Leneide, journaliste correspondante France-Brésil (France)
Duffles Aldon, Luc, administrateur d'Autres Brésils (France)
Dufrègne Jean-Paul, député de l'Allier (PCF), (France)
Dumont, Juliette, maîtresse de conférences en histoire contemporaine à l'IHEAL/ Université Sorbonne Nouvelle – Paris 3, présidente de l'Association pour la Recherche sur le Brésil en Europe (France)
Dumoulin David, maître de conférences en sociologie à l'IHEAL/ Université Sorbonne Nouvelle – Paris 3 (France)
Enders, Armelle, professeure d'histoire contemporaine à l'Université Paris 8 Vincennes Saint-Denis (France)
Espelt-Bombin, Silvia, Lecturer in History of the Americas, University of Exeter (United Kingdom)
Estrada Gaspard, directeur exécutif de l'Observatoire Politique de l'Amérique Latine et de la Caraïbe (Sciences Po Paris)
Falquet, Jules, Maîtresse de conférence en sociologie à l'Université Paris Diderot (France)
Fassin, Didier, Professeur de Sciences Sociales, Institute for Advanced Study, Princeton (US)
Faucillon Elsa, députée de Hauts-de-Seine (PCF), (France)
Faure, Olivier, Député de Seine-et-Marne, Premier secrétaire du Parti Socialiste (France)
Féraud, Rémi, Sénateur de Paris et président du groupe socialistes et apparentés au Conseil de Paris, (France)
Fernández-Molina, Irene, Lecturer in International Relations, University of Exeter (United Kingdom)
Fischer, Georg, Associate Professor of Global Studies, Aarhus University (Denmark)
Fléchet, Anaïs, maîtresse de conférences en histoire contemporaine à l'Université de Versailles Saint-Quentin-en-Yvelines
Frank, Robert, Professeur émérite d'histoire des relations internationales, Université Paris 1 – Panthéon Sorbonne (France)
Furukawa Marques, Dan, Professeur de sociologie, Université Laval, Québec (Canada)
Galvon, Filipe, réalisateur (France)
García-Precedo, Juan, Senior Lecturer in Hispanic Studies, University of Exeter (United Kingdom)
Gerits, Frank, Lecturer in the history of international relations, Utrecht University (The Netherlands)
Ginzburg, Carlo, Professeur émerite à UCLA et à l'Ecole Normale Supérieure de Pise (Italy)
Giudicelli, Christophe, maître de conférences en histoire à l'Université Paris Sorbonne – Sorbonne Université, chercheur au Centre de Recherche et de Documentation sur les Amériques (France)
Gnabaly, Mohamed, maire de l'Ile Saint-Denis (écologiste), (France)
Goirand, Camille, professeure de science politique à l'IHEAL/ Université Sorbonne Nouvelle – Paris 3 (France)
Gontard, Guillaume, sénateur de l'Isère (EELV), (France)
Gough, Anne, researcher at KTH Stockholm (Sweden)
Greaume, Michelle, sénatrice du Nord (PCF) (France)
Guétat, Hélène, professeure des universités, Institut français de Pondichéry et LISST-Université Toulouse Jean Jaurès (France)
Gutiérrez Zamora, Violeta, Early Stage Researcher (University of Eastern Finland)
Haalboom, Floor, postdoctoral researcher, Erasmus Medical Center and Utrecht University (Netherlands)
Hammerer, Véronique, Députée de Gironde (LREM), (France)
Harris, Mark, professor of historical anthropology and Head of the School of Philosophical, Anthropological and Film Studies, University of St Andrews (United Kingdom)
Hecht, Susanna, professor of International History, Graduate Institute Geneva (Switzerland)
Hiribarren, Vincent, Senior Lecturer in Modern Africa History, King's College (United Kingdom)
Iovino, Serenella, Professeure de philosophie environnementale, University of Turin (Italy)
Jaffelin, Emmanuel, philosophe et écrivain, ancien diplomate français au Brésil (France)
Jaumain, Serge, Professeur à l'Université Libre de Bruxelles, AmericaS, centre interdisciplinaire d'études des Amériques (Belgium)
Joly Eva, députée européenne (Groupe Verts-ALE), (France)
Juanico, Régis, Député de la Loire (PS), (France)
Jumel, Sébastien, député de la Seine-Maritime (GDR), (France)
Kalmbach, Karena, Assistant Professor in History at Eindhoven University of Technology, (The Netherlands)
Karam, Antoine, sénateur de la Guyane (LREM), (France)
Keclard-Mondésir, Manuela, députée de la Martinique (GDR), (France)
Kaltmeier Olaf, Professor of InterAmerican history, University of Bielefeld (Germany)
Kern, Fabian, coordinator at the ONG Kooperation Brasilien e.V. (Germany)
Kourliandsky, Jean-Jacques, directeur de l'Observatoire de l'Amérique Latine à la Fondation Jean Jaurès (France)
Kotsila, Panagiota, postdoctoral researcher, ICTA, Universitat Autonoma de Barcelona (Spain)
Kraus-Polk, Alejo, alumni of the Degrowth and Environmental Justice summer school 2016, ICTA, UAB Barcelona (2016)
Kanuty, Pierre, Conseiller régional Ile-de-France (PS), (France)
Kisukidi, Yala, Maîtresse de Conférences en philosophie à l'Université de Paris 8 Vincennes Saint-Denis (France)
Klugman, Patrick, Adjoint à la maire de Paris
Laglèze, Jean-Luc, Député de la Haute-Garonne (MoDem), (France)
Lagier, Claire, Chercheuse au Rachel Carson center for environment and society, LMU Munich (Germany)
Lakhani, Vikas, Researcher at the Rachel Carson Center for environment and society, LMU Munich (Germany)
Laporte, Pierre, Conseiller départemental de Seine-Saint-Denis, maire adjoint de Tremblay (PCF), (France)
Laurent, Pierre, Sénateur de Paris (PCF), (France)
Lecoq, Jean-Paul, député de Seine-Maritime (PCF), (France)
Lehmann, Rosa, Junior Researcher, Institute of Sociology, University of Jena (Germany)
Le Hyaric, Patrick, euro-député (Groupe confédéral de la Gauche unitaire européenne/Gauche verte nordique), (France)
Leinius, Johanna, researcher, Kassel University (Germany)
Lipietz, Alain, économiste et ancien député européen (France)
Lorenzen, Kristina, researcher, Friedrich Schiller University Jena (Germany)
Louault, Frédéric, professeur de science politique (Université Libre de Bruxelles), Vice-président de l'Observatoire Politique de l'Amérique Latine et des Caraïbes (Sciences Po), (Belgium)
Louault, Pierre, Sénateur d'Indre-et-Loire (UDI), (France)
Lyra de Carvalho, Frederico, doctorant en philosophie à l'Université de Lille 3 et membre du bureau de APEB-França (France)
Magnette, Paul, bourgmestre de Charleroi, ex-Ministre Président de la Wallonie, ex-président du Parti Socialiste belge (Belgium)
Malay, Olivier, Researcher in economics, Université Catholique de Louvain (Belgium)
Marcella, Valentina, Assistant Professor, L'Orientale University of Naples (Italy)
Marin, Richard, Professeur émérite d'histoire contemporaine du Brésil, Université Toulouse Jean Jaurès (France)
Marques-Pereira, Bérengère, Professeure au département de Science politique de l'Université libre de Bruxelles (Belgium)
Martin, Jean-Pierre, Union syndicale de la psychiatrie (France)
Mauch, Christoph, Professor and Director of the Rachel Carson center for environment and society, LMU Munich (Germany)
Mello e Souza, Laura, professeure, titulaire de la chaire d'histoire du Brésil à l'Université Paris Sorbonne- Sorbonne Université (France)
Merklen, Denis, Professeur de sociologie à l'IHEAL/ Université Sorbonne Nouvelle – Paris 3 (France)
Michel, Johann, Professeur à l'Université de Poitiers et chercheur à l'EHESS (France)
Mira Delli-Zotti, Guillermo, Professeur d'histoire, Instituto de Iberoamerica/Université de Salamanque (Spain)
Mollier, Jean-Yves, Professeur émérite d'histoire contemporaine à l'Université de Versailles Saint-Quentin-en-Yvelines (France)
Montambault, Françoise, Professeure de science politique à l'Université de Montréal, co-directrice, Réseau d'études latino-américaines de Montréal (RELAM), (Canada)
Nagels, Nora, professeure au Département de science politique de l'Université du Québec à Montréal ; chercheuse, Réseau d'études latino-américaines de Montréal (RELAM), (Canada)
Neumann, Alexander, professeur en sciences de l'information et de la communication, Université Paris 8 Vincennes Saint-Denis (France)
Nilor Jean-Philippe, député de la Martinique (GDR), (France)
Oomen, Jeroen, Researcher, Deutsches Museum and Rachel Carson Center, Munich (Germany)
Pallares-Burke, Maria Lucia, Historienne, chercheur à l'Université de Cambridge (United Kingdom)
Palmblad Jonatan, PhD Candidate and Research Associate at the Rachel Carson Center, LMU Munich (Germany)
Panerai, Philippe, architecte-urbaniste, grand prix d'urbanisme (France)
Pardue, Derek, Associate Professor of Brazilian Studies, Aarhus University (Denmark)
Patel, Kiran Klaus, professor of history, Maastricht University (The Netherlands)
Peralva, Angelina, Sociologue, Chercheure au LISST/Université Toulouse (France)
Picard, François, professeur d'ethnomusicologie Sorbonne Université (France)
Pinatel Laurent, Porte Parole de la Confédération Paysanne (France)
Plon, Michel, Psychanalyste (France)
Pye Oliver, lecturer, Department of Southeast Asian Studies, University of Bonn (Germany)
Ogilvie, Bertrand, Professeur de philosophie à l'Université Paris 8 Vincennes Saint-Denis (France)
Oliveira, Eduardo Jorge, Assistant Professor in Brazilian Studies, University of Zurich (Switzerland)
Pécaut Daniel, Directeur d'études honoraire à l'EHESS (France)
Peña, Alejandra, Drama teacher (The Netherlands)
Peu Stéphane, député de Seine-Saint-Denis (PCF), (France)
Pérez-Moneo, Miguel, Professeur de droit constitutionnel, Université de Barcelone (Espagne)
Piketty, Thomas, directeur d'études à l'Ecole des Hautes Etudes en sciences sociales (France)
Pitti, Raphaël, Médecin humanitaire, conseiller municipal de la ville de Metz (France)
Pleyers, Geoffrey, professeur de sociologie à l'Université de Louvain, FNRS (Belgium)
Pompeu, João, Basque Center for Climate Change (Spain)
Prevost, Heloïse, sociologue et co-réalisatrice de "Femmes rurales en mouvement", Université Toulouse Jean Jaurès (France)
Prutsch, Ursula, Professor of Brazilian cultural history, Amerika Institut, LMU Munich (Germany)
Räthzel, Nora, Professor, Department of Sociology, UMEÅ University (Sweden)
Rey, Matthieu, Chargé de recherche au CNRS, Institut de recherches et d'études sur le monde arabe et musulman d'Aix-en-Provence (France)
Richard, Nicolas, Chargé de recherche en histoire et anthropologie au CNRS, Centre de Recherche et de Documentation sur les Amériques (France)
Rodríguez, Fabricio, Research Fellow at the Institute of Sociology, Friedrich Schiller University of Jena (Germany)
Roth, Julia, Professor of literature, University of Bielefeld (Germany)
Rothbart, Samantha, editor, Rachel Carson Center (Munich, Germany)
Roxo, Valentina, PhD student at the Rachel Carson Center, LMU Munich (Germany)
Roxo, Eduardo Raul, Senior operations manager Siemens Financial Services, Munich (Germany)
Roudinesco, Elisabeth, Historienne, Chercheur Université Paris Diderot (France)
Roussel, Fabien, député du Nord (PCF), (France)
Ruiz Cayuela, Sergio, Early Stage Researcher, Centre for Agroecology, Water and Resilience, Coventry University (United Kingdom)
Rupprecht, Tobias, Lecturer and Director of the Exeter Centre for Latin American Studies, University of Exeter (United Kingdom)
Russier, Laurent, maire de Saint-Denis (PCF), (France)
Salemink, Oscar, Professor of Anthropology, University of Copenhagen (Denmark)
Salord, Tristan, Ingénieur d'études Digital Humanities, IRIT, Université Paul Sabatier & Université de Toulouse 2 Jean-Jaurès (France)
Santos, Rui, PhD Student, Sheffield School of Architecture (United Kingdom).
Scheerer, Sebastian, Professor of criminology, University of Hamburg (Germany)
Senault, Alban, Représentant du Bureau National de France Amérique Latine (France)
Shepard, Todd, Professeur d'histoire contemporaine, The John Hopkins University (Baltimore, USA)
Schneider, Nina Schneider, Senior Research Fellow et the Global South Studies Center (GSSC), Cologne (Germany)
Schmidt, René, urbaniste (France)
Schmitt Tobias, Institute of Geography, University of Hamburg (Germany)
Serville, Gabriel, député de la Guyane (GDR), (France)
Sezerino, Glauber, sociologue, co-président d'Autres Brésils (France)
Sfeir, Jihane, Professeure associée à l'Université Libre de Bruxelles, Membre de l'Observatoire des Mondes arabes t musulmans (Belgique)
Simondon, Paul, Conseiller de Paris (PS), (France)
Smith, Thomas, Postdoctoral researcher, Masaryk University (Czech Republic)
Soriano, Michelle, Professeure des universités, Département d'études hispaniques et hispano-américaines, Université Toulouse Jean Jaurès (France)
Sorman, Alevgul H., Researcher, Basque Centre for Climate Change (Spain)
Souchaud Sylvain, Chargé de recherche en géographie à l'Institut de Recherche pour le Développement – IRD (France)
Taibi, Azzédine, maire de Stains (PCF), (France)
Tan, Buon, député de Paris (LREM), (France)
Théry, Hervé, chercheur au Centre de Recherche et de Documentation sur les Amériques, professeur invité à l'Université de São Paulo, chercheur invité à l'Université de Brasilia (CDS), Directeur du OHM (Observatoire Hommes-milieux) CNRS-INEE Oyapock (France)
Thibaud Clément, directeur d'études en histoire à l'EHESS-Mondes Américains (France)
Tischler, Julia, Assistant Professor of African History, University of Basel (Switzerland)
Tissot, Jean-Claude, Sénateur de la Loire (PS), (France)
Tittor, Anne, Post-doctoral Researcher at the Institute of Sociology, Jena (Germany)
Töpfer, Tobias, Senior Lecturer, Department of Geography, University of Innsbruck (Austria)
Toribio, Mary-Renée, professeure de français (France)
Troussel, Stéphane, Président du Conseil Départemental de Seine-Saint-Denis (PS), (France)
Vallaud, Boris, Député des Landes (PS), (France)
Velicu, Irina, Post-Doctoral Researcher at the Center for Social Studies of the University of Coimbra (Portugal)
Venturini, Federico, independent activist-researcher (Italy)
Vergiat, Marie-Christine, euro-députée (Groupe confédéral de la Gauche unitaire européenne/Gauche verte nordique), (France)
Verschuur, Christine, anthropologue, IHEID Genève (Switzerland)
Vidal, Laurent, Professeur d'histoire contemporaine, Université de La Rochelle (France)
Vieu, Marie-Pierre, euro-députée (PCF-GUE), (France)
Virchow, Fabian, Professor of Political Sciences, Hochschule Düsseldorf (Germany)
Volk, Christian, professor at the Otto-Suhr-Institute for political sciences, Freie Universität Berlin (Germany)
Weisfred, José Eduardo, Directeur de recherche au CNRS (France)
Weiss, Tony, Associate Professor, Department of Geography, The University of Western Ontario, London (Canada)
Wink, Georg, Associate Professor of Brazilian Studies, University of Copenhagen (Denmark)
Winterfeld, Uta v., Wuppertal Institute and Kassel University (Germany)
Wissen, Markus, Professor for Social Sciences, Berlin School of Economics and Law (Germany)
Wolikow, Serge, professeur émérite d'histoire contemporaine, Université de Bourgogne Franche Comté – Maison des Sciences de l'Homme (France)
Wulfranc, Hubert, député de la Seine-Maritime (PCF), (France)
Zambeaux Edouard, journaliste, créateur de l'émission Périphéries (France)
Zagefka, Polymnia, maîtresse de conférences en sociologie à la retraite de l'IHEAL/ Université Sorbonne Nouvelle – Paris 3 (France)
Zografos, Christos, researcher at Pompeu Fabra University, Barcelona (Spain)