#LulaDay in Los Angeles, United States of America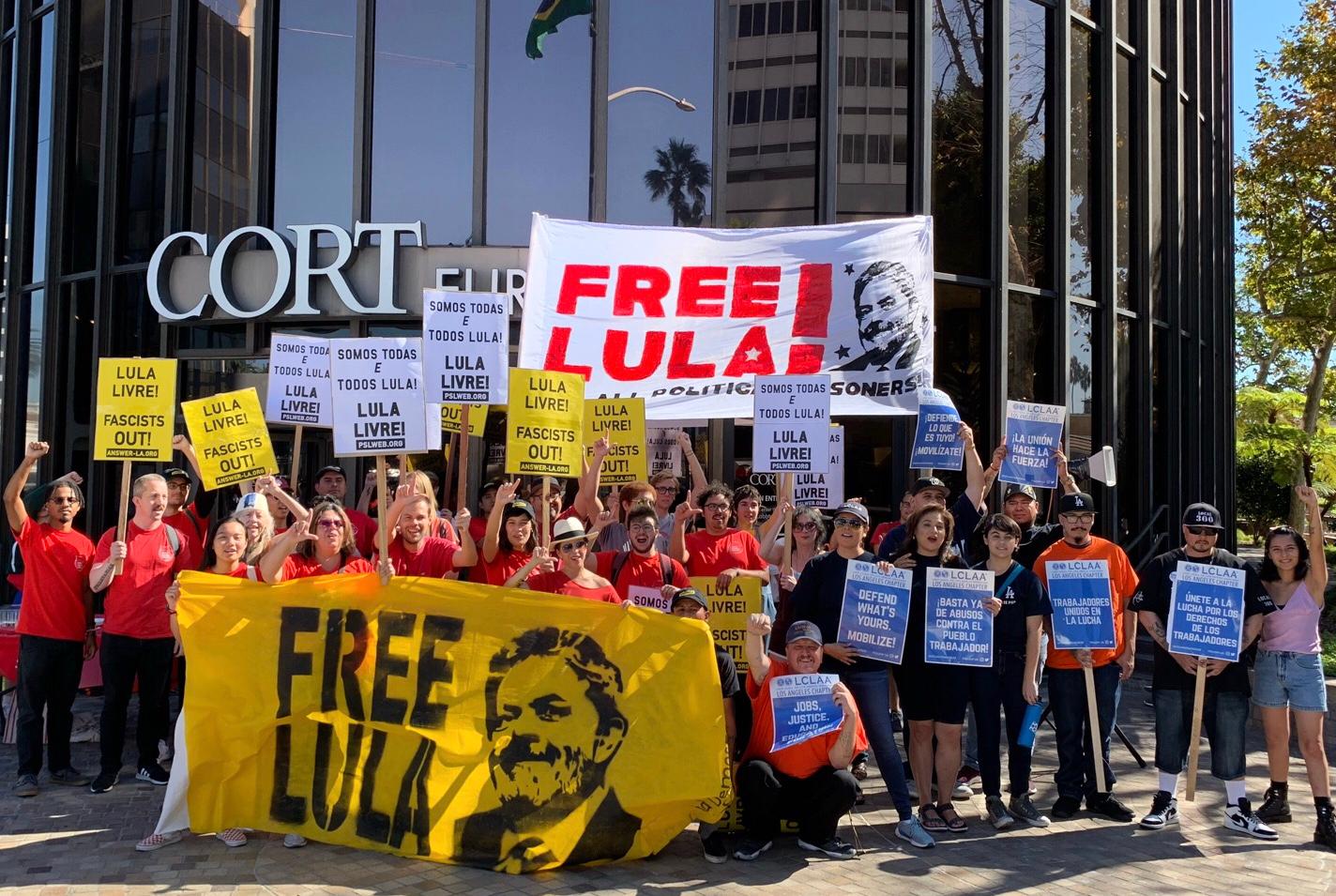 Free Lula Rally and Celebration in Los Angeles
More than 50 people gathered to write birthday cards in celebration of Lula's 74th anniversary, and to protest against his unjust imprisonment
Cake, birthday cards, and political chants for justice and freedom. On October 26th, the day before the anniversary of former President Lula, leftist parties, social organizations, collectives and activists gather in front of the Brazilian Consulate in Los Angeles to celebrate Lula's 74th anniversary and to protest against his unjust imprisonment.
"Somos Todos e Todas Lula". More than 50 people, mainly Americans, got together to show their solidarity with Lula and talk about the coup that started on 2016 and led to his irregular incarceration. They drew and wrote birthday cards to Lula, sang happy birthday to him, share a cake, and made political speeches demanding his freedom. They are member of local organizations, unions and parties, and activists moved by the international solidarity and the understanding the democracy is in threat in many countries currently under far right governments – and, together with it, social and civil rights, the environment, indigenous peoples, women, blacks and the LGBTQ community. The unfolding coup and subsequent turmoil in Brazil is a part of a larger geopolitical conflict in Latin America that desperately requires international support. As long as Lula is in jail, Brazilian democracy and progress too are imprisoned.
The former Chancellor and president of the Lula Livre International Committee, Celso Amorim, sent a video with greetings and thanks to the participants of the event, as well as Valter Pomar, member of the executive coordination of the Lula Livre National Committee.
FREE LULA RALLY AND CELEBRATION also marked the creation of the Lula Free Committee – Los Angeles.
The FREE LULA RALLY AND CELEBRATION was organized by the Party for Socialism and Liberation in Los Angeles with the support of Coletivo por Brasil Democratico, Free Lula International Committee, Comitê Nacional Lula Livre, and was endorsed by the ANSWER Los Angeles coalition, Peace and Freedom Party, AFL-CIO, Anticonquista, Union de Vecinos, National Lawyers Guild – L.A., Friends of MST, CODEPINK, March and Rally LA, and SoCal350.
Check the photos out :
Read here the text by Valter Pomar.
Organized by Socialism and Liberation – Los Angeles.