Bulletin 451 – People's Committee in Defense of Lula and Democracy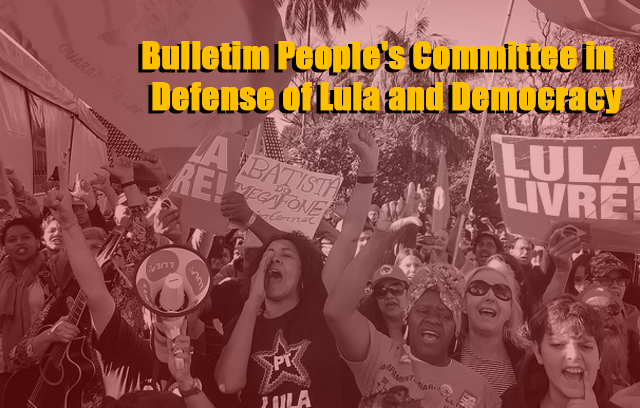 1. Former President Luiz Inácio Lula da Silva has repeated spoke about how important the defense of national sovereignty is – a theme which he says is of top priority to avoid new setbacks imposed by the right wing extremist government of Jair Bolsonaro. Making the nation return to being sovereign is, in Lula's opinion, to take control of the decisions that a nation should take in order to favor its own people. Lula's evaluation was relayed by the Political Scientist and Economist Luiz Carlos Bresser-Pereira and ex-Foreign Chancellor Celso Amorim, who visited him on this Thursday, May 16.
2. Bresser-Pereira has defended Lula through articles and interviews since the persecution of the former president took an irremediable direction. But it was on this Thursday, May 16th that the renowned political scientist had the opportunity to made this defense personally as he had the opportunity to visit the most popular leader the nation every had for the first time since his political imprisonment. After talking about their conversation to the activists, Bresser-Pereira also spoke of how he felt visiting the Lula Livre Vigil. "What you are doing here has great symbolic importance," he said.
3. On this Thursday, May 16th, the Lula Institute published a video which unmasks the farse built by Sérgio Moro – the former Judge who became a politician and minister in the right wing extremist government that he helped elect- to convict Lula based on the coerced plea bargain testimony of Léo Pinheiro to uphold a theory for which there was no supporting evidence. One detail is that the businessman never said that the Guarujá Triplex apartment was delivered to the former President. In the three hours of testimony, Pinheiro did not offer any supporting elements for the conviction of the former President.
Bulletin 451 – People's Committee in Defense of Lula and Democracy
Straight from Curitiba – 5/16/2019 – 405 days of resistance – 8:40 PM