Bulletin 450 – People's Committee in Defense of Lula and Democracy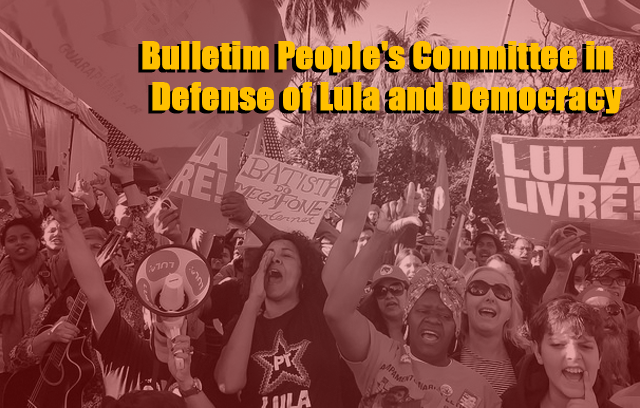 1. Hundreds of thousands of Brazilians came out to the streets on this Wednesday, May 15th, to protest against the education cuts promoted by the right wing extremist Jair Bolsonaro (PSL) government. During the protests, students spoke of the legacy in the area left by the PT government and also demanded freedom for former President Luiz Inácio Lula da Silva. In São Paulo, Laura Marcelly Morais dos Santos participated in the protest and said that she grew up knowing that she would be able to go to college because of the ex-President, but now she doesn't know if she will be able to get into a university.
2. PT's former candidate for the 2018 presidential elections, Professor Fernando Haddad, sent his message on this day of struggle in defense of education. Former national Education Minister Haddad spoke of his partnership with Lula in the implementation of many conquests in the area, including the creation of federal institutions and technical schools. Haddad also criticized the dismantling of the education system promoted by Bolsonaro which will directly affect the future of the nation.
3. During the good morning shout to Lula on this Wednesday, May 15, the Lula Livre Vigil activists recalled the struggle in defense of education and manifested their support to the hundreds of thousands of Brazilians who took to the streets in protests against cuts in the area. Representatives of the ABC Metallurgical Workers Union were in Curitiba to show their solidarity with Lula. The good afternoon President shout was led by comrade Renato Simões, from the PT national Executive Commission.
Bulletin 450 – People's Committee in Defense of Lula and Democracy
Straight from Curitiba – 5/15/2019 – 404 days of resistance – 9:30 PM