Bulletin 448 – People's Committee in Defense of Lula and Democracy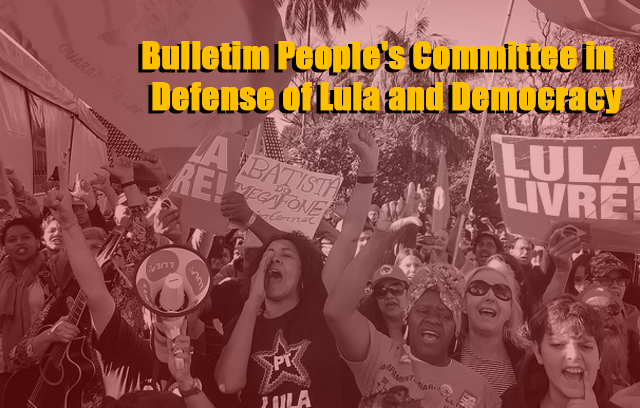 1. In an exclusive interview with the BBC which was released on Friday, May 10, former President Luiz Inácio Lula da Silva made a broad analysis of the national and international political conjuncture. Lula gave one more lesson about what is happening in the World and especially in Brazil, where the extreme right wing government is implementing a project of suppressing historic rights of the Brazilian people.
2. On May 13th, 2009, exactly 10 years ago today, Unesco awarded ex-President Lula the Félix Houphouet-Boigny Prize for Fostering Peace. The award was given in recognition for his work, "in favor of peace, dialogue and democracy, of social justice and equality of rights." During his acceptance speech, Lula said that it is "always possible to choose peace over war; democracy over tyranny; the triumph of human rights over arbitrary actions; social equality and the collective good over exploitation. These choices demand courage, political will and clarity of objectives."
3. Fred Mmembe, candidate for the Presidency of Zambia, was in the Lula Livre Vigil this Monday, May 13th, in a visit made in solidarity with the former President. The pre-candidate for the Zambian Socialist Party, Mmembe came to Curitiba together with Ngenda (Chris) Mwikisa, who is also a member of the Central Committee of the party. Both defended the shared, international struggle against the advances of the right and in defense of freedom for the former President. "Lula is a leader for all of us, so we have every right to participate in this fight," said Mmembe.
4. During the morning, the Zambian activists participated in a conversation circle together with members of the Landless Rural Workers Movement (MST) from the towns of Pinhão and Quedas do Iguaçu, both located in the Paraná countryside. They talked about international experiences of people's resistance.
5. On the day in which the abolition of slavery in Brazil is commemorated, the National Secretary of the Fight Against Racism of the Workers Party, Martvs Chagas, spoke of Lula's legacy for the promotion of racial equality in Brazil. "May 13th is merely a symbolic date because abolition has never been finished in Brazil. It is indubitable that the greatest winds of inclusion took place during Lula's government," he said, citing advances in the areas of education and housing.
Bulletin 448 – People's Committee in Defense of Lula and Democracy
Straight from Curitiba – 5/13/2019 – 402 days of resistance – 8 PM