Bulletin 445 – People's Committee in Defense of Lula and Democracy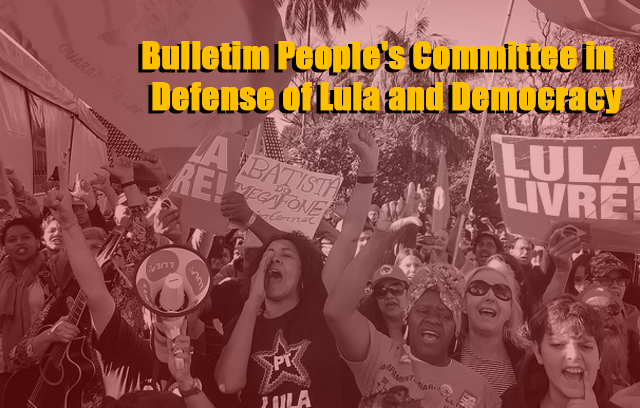 1. With his traditional, characteristic skill, Lula returned to the center of the political debate after the exhibition of a special program with the ex-President recorded by the British network BBC. Once again, Lula deconstructed, point by point, the narrative which tries to attribute crimes that he never committed to him, continuing to challenge Sérgio Moro to present one single piece of evidence against him and showing perplexity at the more and more frequent disasters provoked in this little more than 4 months of dis-governance by Jair Bolsonaro, who declared war on the nation's public education in an attempt to extinguish the immense legacy left by the PT governments.
2. The second day of the Lula Livre Caravan with Fernando Haddad continued on this Friday, May 10th, in Rio de Janeiro with a meeting with community leaders and a public demonstration in defense of universities and public education and against pension reform in the neighborhood of Cinelandia. In addition to Fernando Haddad, Gleisi Hoffmann, Benedita da Silva, Marcelo Freixo and other political leaders participated in the activities. In addition to defense of education, the demonstration promoted the central issue of the struggle for freedom for Lula, who was unjustly imprisoned over a year ago.
3. The most popular President in the history of Brazil, respected internationally for promoting peace and the integration of peoples, once again was honored outside of Brazil. Luiz Inácio Lula da Silva received, on this Thursday, May 9th, the title of "Personality of the year," in a ceremony that took place in New York. Lurian Lula da Silva, daughter of the former President, received the award in the name of her father. During the ceremony they also held the international launching for "The Truth Will Prevail – the People Know why I was Condemned".
4. The photographers for Democracy are inviting photographers to participate in the setting up of a big projection, in Brazil and abroad, donating images that dialogue with defense of freedom for Lula. The goal of the video is to provide materials for activities supporting the fight by showing that Lula is a political prisoner to the greatest number of people possible. Whoever has images of former President Lula that are historic, iconic or unusual, or of Free Lula protests on the streets, can send them to the email, fotografospelademocracia@gmail.com. Read more here: https://bit.ly/2WNIl0N
5. During the whole week, the activists present at the Lula Livre Vigil held a series of activities to denounce the systematic public education cuts promoted by Jair Bolsonaro. On this Friday, May 10th, the resistance center received the visit of a professional in the area: the Philosophy Professor and writer Peter Pál Pelbart. After participating in the "Good afternoon president Lula," shout, he read a letter which he wrote for the former President.
Bulletin 445 – People's Committee in Defense of Lula and Democracy
Straight from Curitiba – 5/10/2018 – 399 days of resistance – 10:15 PM