Bulletin 444 – People's Committee in Defense of Lula and Democracy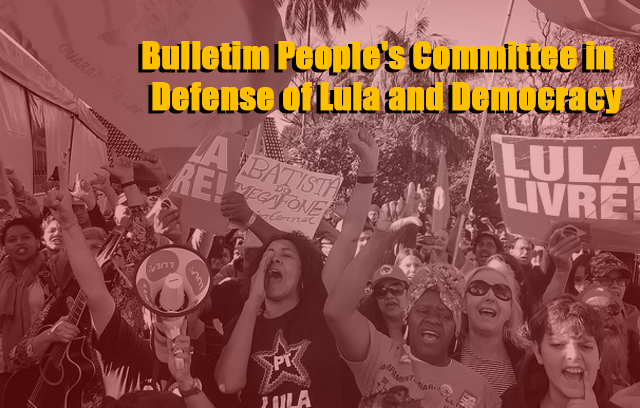 1. The Workers Party created the governments which invested the most on education in the history of Brazil and therefore it has no choice but to unite with the students and professors in the fight against the spending cuts proposed by Jair Bolsonaro (PSL), who has decided that the eduction system is his enemy. This is one of the messages of the Free Lula Caravan, which is traveling through the southeast with Fernando Haddad and held its first act on this Thursday, May 9th, in Victoria, Espirito Santo. The former national Education Minister also defended Lula during his speech. "I don't know of any precedent of anyone ever being convicted of committing an undetermined act," he said, "the Justice system made a mistake against Lula."
2. Former Uruguayan President Pepe Mujica has been one of the most active voices in South America in defense of freedom for Lula. On this Thursday, May 9th, the charismatic peoples' leader spoke once again in favor of his Brazilian friend through a video posted on his social media sites. "We will never leave the world wonderful, but we continue moving forwards up small steps of human civilization," Pepe said.
3. The schedule on this Thursday, May 9th, at the Lula Livre Vigil had, as a theme, in addition to the permanent struggle in defense of freedom for the ex-President, defense of the Brazilian public education system. During the morning, professor Eliane Bueno invited the activists to participate in a conversation about the dangers of neoliberalism and their its damaging consequences for education in Brazil.
4. The Vigil also welcomed dozens of first-time visitors. In addition to a caravan from Rio Bonito do Iguaçu, Paraná, many activists came from states like São Paulo and Rio de Janeiro. Some of them spoke about the reasons they traveled so many hours to visit the Vigil. The visitors also had the opportunity to lead the traditional "Good morning, President Lula" shout, which has been happening every day since the beginning of the resistance.
Bulletin 444 – People's Committee in Defense of Lula and Democracy
Straight from Curitiba – 5/9/2019 – 398 days of resistance – 8:25 PM