Bulletin 443 – Peoples Committee in Defense of Lula and Democracy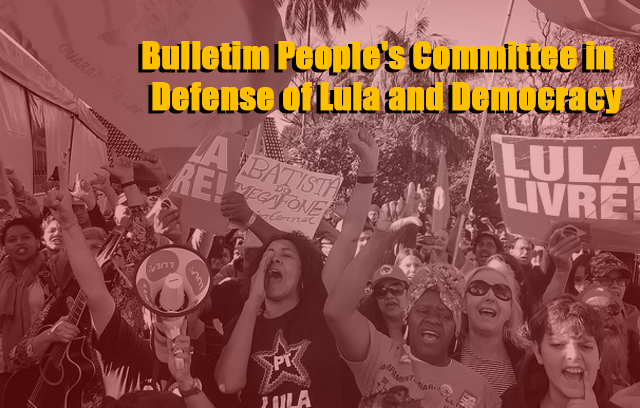 1. On Tuesday, May 7th, the BBC announced on its web site that the interview with former President Luiz Inácio Lula da Silva made by the journalist Kennedy Alencar will be broadcast on Saturday, May 11th, at 12:30 AM GMT (8:30 PM Brasilia time) for subscribers to the channel. Internauts can also follow the coverage of the interview through the official networks of the PT, Lula and partners. The controversial interview was originally planned to be broadcast by Rede TV.
2. On Wednesday morning, May 8th, Paraná State Congressman Professor Lemos (PT) visited the Lula Livre Vigil. A regular visitor to the resistance center, he spoke to the activists about developments related to the political imprisonment of the former President. The lawmaker also spoke about the eduction cuts promoted by the right wing extremist Bolsonaro government. "What Bolsonaro really wants is to privatize public education. These cuts will inhibit the system, from preschool to university, from functioning.
3. On this Wednesday, May 8th, the activists at the Lula Live Vigil, who are keeping up the fight for freedom for the ex-President finished their day with a moment of recreation, watching a movie in the Marielle Franco Lives Formation and Culture Center. In an initiative called Lula Livre Cinema, activists gathered to watch In Time, which was a box office hit starring Justin Timberlake.
Bulletin 443 – Peoples Committee in Defense of Lula and Democracy
Straight from Curitiba – 5/8/2019 – 397 days of resistance – 8:30 PM