Bulletin 439 – People's Committee in Defense of Lula and Democracy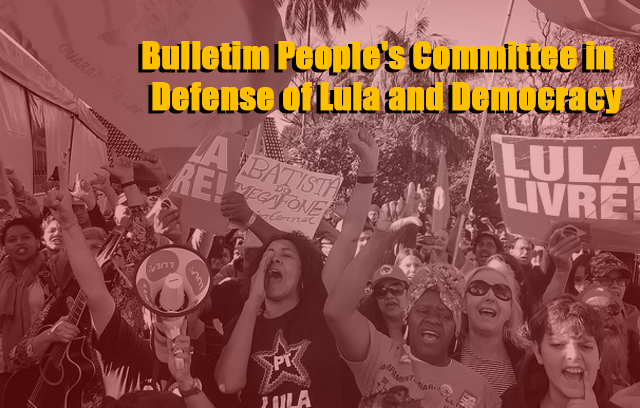 1. On this Saturday, May 4th, the first Lula Livre Campaign Digital Course was held. The goal of the program is to strengthen the people's committees that have formed in every Brazilian state in defense of former President Luiz Inácio Lula da Silva. The activity is based on the Free Lula Notebook, launched in April on the one year anniversary of the former President's political imprisonment. PT National President, Congresswoman Gleisi Hoffmann (Paraná) participated in the course, as did Leige Rocha, Carol Proner, Juliano Medeiros and João Pedro Stedile.
2. Representatives of the Santa Catarina People's Doctors Network came to the Lula Livre Vigil on this Saturday, May 4th. They coordinated a conversation circle which was held in the afternoon about the importance of the More Doctors Program for the health of the Brazilian people. Comrades from the PC do B party also came to the Vigil so show solidarity with Lula and, together with the doctors from Santa Catarina, led the 'Good afternoon, President' shout.
3. In the morning, the participants in the "Good morning, President Lula," shout sang the Lula Livre samba in homage to Beth Carvalho, who immortalized the song at the Lula Livre Festival in August, 2018 in Rio de Janeiro. Known as the "godmother of Samba" she always took sides with democracy and was a great supporter of the former President. Beth Carvalho died this week at the age of 72.
Bulletin 439 – People's Committee in Defense of Lula and Democracy
Straight from Curitiba – 5/4/2019 – 393 days of resistance – 6:40 PM