Bulletin 438 – People's Committee in Defense of Lula and Democracy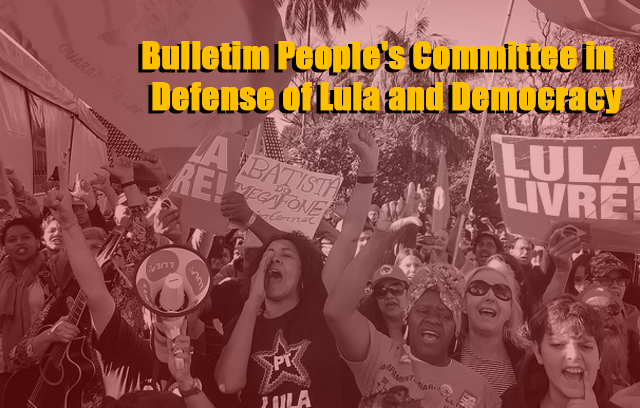 In an interview made to Carta Capital magazine, the lawyers Valeska Teixeira Martins and Cristiano Zanin Martins, from Lula's defense team, gave details of the case against the former President. Both affirmed that there are various pieces of evidence proving Lula's innocence that are being ignored by the Courts. "Ex-President Lula always made it very clear to make a point of recognizing that this conviction was unjust and biased," Valeska said.
Lula's defense team said, through an a statement that was issued on this Friday, May 3, that they will analyze all of rights resulting from ruling on the special motion by the Superior Justice Court made on April 23rd. "The central strategy of Lula's defense is to have the case dismissed, which is the only possible outcome for someone who did not commit any crime," says a passage from the statement.
An interview with José Sócrates, former Prime Minister of Portugal, was transformed into a letter and will be delivered to former President Luiz Inácio Lula da Silva, in Curitiba. He dedicated it, "to Lula, who helped me understand and love Brazil. The Brazil with the S of Silva, Lula da Silva". The letter tells of the call that a Supreme Court Minister made to Lula when he lost his grandson Arthur. "The cries of Gilmar and Lula are for democracy. But it is also the cry that reminds us that it exists. After all, there is more of a world beyond this in which Brazil lives, "he said.
Bulletin 438 – People's Committee in Defense of Lula and Democracy
Straight from Curitiba – 5/3/2019 – 392 days of resistance – 10 PM