Bulletin 430 – People's Committee in Defense of Lula and Democracy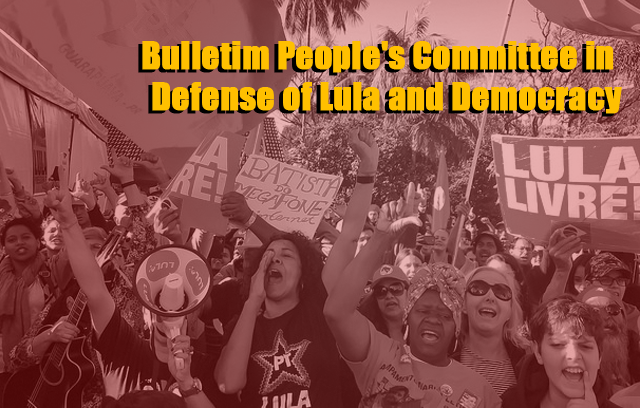 1. After visiting ex-President Luiz Inácio Lula da Silva on this Thursday, April 25, in Curitiba, the Italian writer and sociologist Domenico de Masi said that he encountered a man who always gave more weight to the good of the collective than any issue of personal interest. "The fact is that he is being held here as a political prisoner does not change anything regarding his international prestige," he said, "Lula continues to be a great world leader, perhaps the greatest of all."
2. Federal Supreme Court Minister Ricardo Lewandowski confronted Paraná Federal Police Superintendent, Luciano Flores de Lima, on this Thursday, April 25th, after he arbitrarily decided to create an audience of journalists, pre-selected by the Federal Police, to accompany the interview with former President Lula. The Minister reaffirmed that only El Pais and Folha de São Paulo newspapers were authorized to interview Lula on this Friday, April 26th.
3. Today's "good afternoon President Lula!," shout was led by two comrades from Praia Grande, São Paulo. Aline Fernandes Maeda and Joana Darque Fernandes Sales, mother and daughter, visited the Lula Livre Vigil for the first time and were moved by the energy of the place. "I want to get to know everyone and be here in this space of struggle and resistance. I am a lawyer who was able to graduate because of Lula's government and I am very proud of this," Aline said.
4. There was a Free Lula Festival held on the night of Thursday, April 25th, in Buenos Aires, Argentina, in one more international initiative in defense of freedom for the former President. The event, which also demanded justice for the death of Rio de Janeiro city councilwoman Marielle Franco, was attended by various political and intellectual leaders in our neighboring country and former President Dilma Rousseff represented the Workers Party.
Bulletin 430 – People's Committee in Defense of Lula and Democracy
Straight from Curitiba – 4/25/2019 – 384 days of resistance – 8:10 PM