Bulletin 429 – People's Committee in Defense of Lula and Democracy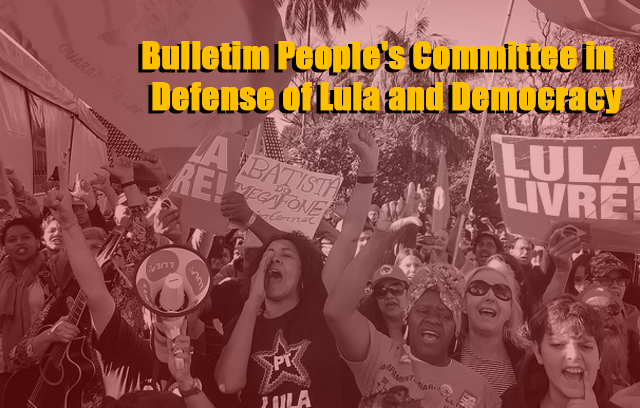 1. On Thursday, April 25th, the Italian writer and sociologist Domenico De Masi will visit former President Luiz Inácio Lula da Silva. De Masi is yet another prominent international voice who is denouncing Lula's arbitrary political imprisonment. After the visit, De Masi will hold a press conference which will be broadcast through the official networks of the PT, Lula and partner organizations.
2. The "good afternoon President Lula," shout on this Wednesday, April 14th, was, once again, led by a union leader. This time Paraná State CUT Union Confederation President Regina Cruz led the shout at the Lula Livre Vigil. She also coordinated the other activities of the day, which where focused on the themes which have taken the streets: the dangers of the pension reform project proposed by the right wing extremist Bolsonaro government and freedom for Lula.
3. The Lula Livre Festival organizers say that the next edition of the event will take place on June 2nd, instead of May 5th. The change was made due to the initial proximity with the May 1st protests which are being organized by the union confederations. The artists who were confirmed will reschedule. New artists have come in contact with event organizers to participate in the show, which will have a humanitarian character in defense of freedom for the ex-President.
4. Former President Dilma Rousseff, a victim of the 2016 coup, issued a statement to the press on this Wednesday, April 24th, about the judgment on Lula's appeal process in the Superior Justice Court. "The Court missed an opportunity to do justice, to break with an arbitrary action and to give the nation an example of exemption and courage," she said. She also agreed with Lula's evaluation that the sentence reduction "does not eliminate or mitigate the brutal injustice" committed against him.
Bulletin 429 – People's Committee in Defense of Lula and Democracy
Straight from Curitiba – 4/24/2019 – 383 days of resistance – 8:25 PM