Bulletin 428 – People's Committee in Defense of Lula and Democracy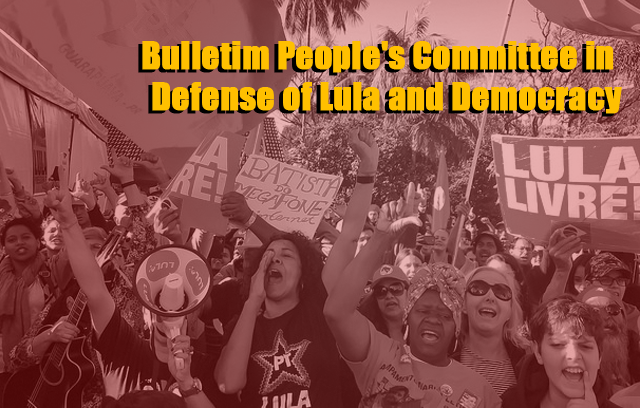 1. Before his lawyers Luiz Carlos Rocha and Emidio de Souza told him the results of the judgment of his appeal to the Supreme Justice Court (STJ), ex-President Luiz Inácio Lula da Silva had already anticipated the verdict: the only path to freedom is through people's mobilization. "I was politically imprisoned and will only be politically freed by the struggle of the Brazilian people," the former President told his lawyers on this Tuesday, April 23rd.
2. In a note published immediately after the STJ ruling, Lula's defense team said it respects the position of the court ministers, but expresses its "nonconformity" in relation to the results of the ruling, because it understands that "the only possible outcome is absolution" of the former President, "because he did not commit any crime."
3. The National Lula Livre Committee released a note of repudiation against the Supreme Justice Court highlighting that the only acceptable decision is the complete absolution of the ex-President. "With all of the fatigue from Operation Car Wash and the growing solidarity of the ex-President, the 5th Court Group felt obliged to lower the prison term and reduce the fines decided by Sergio Moro and the 4th Regional Federal Court, which are scandalously abusive," says the note.
4. In an act that has been recurring every Tuesday, PT lawmakers from the Paraná state assembly visited the Lula Livre Vigil today, April 23rd, to participate in the "Good morning, President Lula," shout. Congresspeople Professor Lemos, Luciana Rafagnin, Arilson Chiorato and Tadeu Veneri represented the part Bloc during the traditional greeting. Each one of them also made a brief analysis about the legal developments and the unjust political imprisonment of Lula.
5. Constantly recognized by the former President as the motor which maintains his struggle for freedom moving, the longest Vigil in history has become a mini-documentary called, "Good Morning, President Lula!" which shows the routine in the resistance center in front of the federal police headquarters in Curitiba, starting on April 7th, 2018, the day that the arbitrary imprisonment of the ex-President was first ordered.
Bulletin 428 – People's Committee in Defense of Lula and Democracy
Straight from Curitiba – 4/23/2019 – 382 days of resistance – 9:35 PM