Bulletin 427 – People's Committee in Defense of Lula and Democracy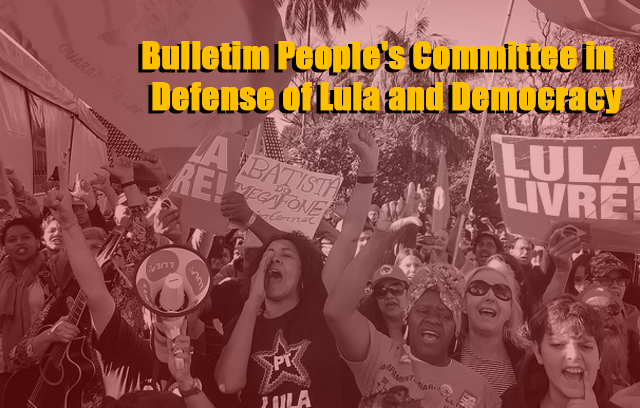 1. The "good morning, President Lula" shout on this Monday, April 22nd, was led by the Landless Rural Workers Movement (MST), represented by the Dom Tomás Balduíno (Paraná) settlement and was conducted by Sandra Ramírez, the Colombian senator from the Força Alternativa Revolucionaria do Comum Party. "I am here supporting the Vigil for freedom for President Lula, bringing our support and solidarity. Lula should be free," she said. After the traditional afternoon shout, Sandra participated in a conversation circle on the theme of "Colombian Struggle and Resistance."
2. Also on this Monday, as part of the varied cultural schedule which has animated the Lula Livre Vigil since its first day of existence, the democratic resistance activists watched a concert by Daniel Rodrigues, a member of the MST. The musician animated the crowd with a rousing version of Cativeiros, a song written by Antonio Gringo.
3. Today, on April 22nd, the National Lula Livre Committee launched the Free Lula website. The page was made to register committees, collectives and activities made in defense of freedom for former President Luiz Inácio Lula da Silva, who has been held as a political prisoner for 381 days. According to the Committee organizers, "you cannot negotiate freedom, dignity and democracy," and the resistance in defense of Lula has to be expanded. To create a committee visit the site here: https://www.lulalivre.org.br/
4. The Italian Luigi Ferrajoli, one of the greatest and most influential legal scholars in the world, evaluated that the Lava Jato task force of ex-Judge Sergio Moro manipulated public opinion through the press.
Bulletin 427 – People's Committee in Defense of Lula and Democracy
Straight from Curitiba – 4/22/2019 – 381 days of resistance – 7:30 PM