Bulletin 424 – People's Committee in Defense of Lula and Democracy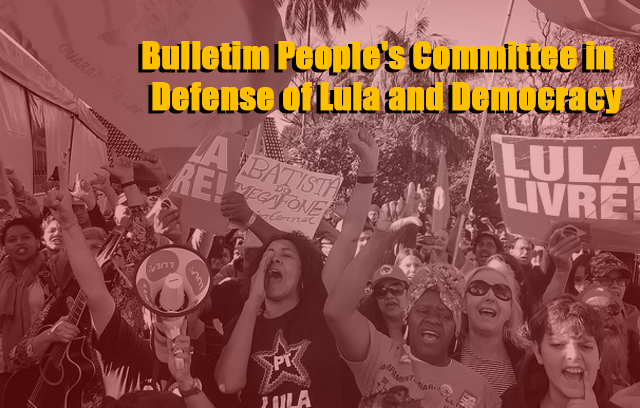 1. José Celso Martinez Corrêa, known as Zé Celso – one of the most important figures in Brazilian theater – wrote a letter to former presidente Luiz Inácio Lula da Silva in which he says that his arbitrary, political imprisonment was the worst of all of the coups that Brazil suffered. In the letter he recalls the fight against the dictatorship (1964-1985), lists the recent democratic setbacks in the country and says that he agrees with Noam Chomsky that Lula is the most important political prisoner in the World today.
2. On this Friday, April 19th, protesters gathered at the Memorial of Resistance in São Paulo to remember Lula's first political imprisonment. On April 19th, 1980, 39 years ago, Luiz Inácio Lula da Silva, then a union leader in the ABC region of Greater São Paulo, was arrested by the Department of Political and Social Order (DOPS), the military dictatorship's political police.
3. The fourth episode of the series "One year for Free Lula" was the highlight of the Lula Livre network on this Friday, April 19th. The candidacies of Fernando Haddad (PT) and Manuela D'Àvila (PC d B) and the resistance against fascism represented by the campaign of Jair Bolsonaro are some of the moments remembered in the episode entitled, "Elections without Lula were a fraud."
4. The Federal Supreme Court's authorization for Lula to give interviews to Mônica Bergamo and Florestan Fernandes Júnior, blocked by the same Court last year, is extremely important , because it reaffirms freedom of expression as an absolute right of Brazilians. This opinion was expressed by Paulo Moreira Leite, of Jornalists for Democracy. in his column for Brasil 247. "The decision about Lula represents an important step in the defense of the democratic rule of law, and recalls an authoritarian legacy left over from the 2018 presidential campaign," he said.
5. For more than 300 days, people from Brazil and various other countries have passed through (with some staying on permanently), the Lula Livre Vigil in Curitiba, to strengthen the democratic resistance and denounce the violations of the Lava Jato investigation and the political persecution against Lula, who was condemned without proof by Sérgio Moro, the judge who abandoned the toga to become a politician in the right wing extremist government that he helped elect. On the morning of this Friday, April 19, the "Good morning President Lula," shout featured the participation of comrades from Natal, Rio Grande do Norte, and Itajubá, Minas Gerais.
Bulletin 424 – People's Committee in Defense of Lula and Democracy
Straight from Curitiba – 4/19/2019 – 378 days of resistance – 7:35 PM