Bulletin 423 – People's Committee in Defense of Lula and Democracy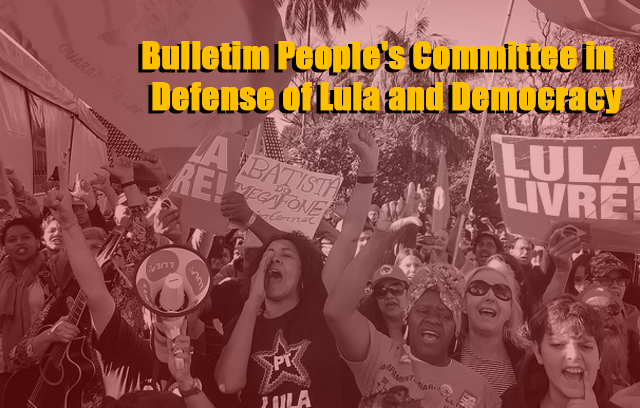 1. Former President Luiz Inácio Lula da Silva spoke of the importance of maintaining unity with the progressive front to strengthen the fight against social, economic and labor setbacks sponsored by the right wing extremist government of Jair Bolsonaro. The message he gave was transmitted by PT National President, Congresswoman Gleisi Hoffman (Paraná), and Senator Rogério Carvalho (PT-Sergipe), who both visited the former President today. "We need to be closer and closer to the Brazilian people," said the former President to his friends.
2. Federal Congressmen and PT leader in the House of Representatives, Paulo Pimenta (Rio Grande do Sul) and Congressman Paulo Teixeira (PT-São Paulo), together with former Congressman Wadih Damous (PT-Rio de Janeiro), filed a petition in the Federal Supreme Court this Thursday, April 18th, requested "effective compliance" with the ruling which authorizes former President Lula to give an interview to the journalist Mônica Bergamo. The ruling was made in October by Supreme Court Minister Ricardo Lewandowski, but was immediately suspended by Minister Luiz Fux, at the request of the Partido Novo, in a move that is considered censorship by the PT, but which was commemorated by conservatives, including by several journalists and communications vehicles which supported Jair Bolsonaro's campaign for President.
3. In a manifesto, intellectuals and artists demand freedom for Lula. Signatories include: Leonardo Boff, Marieta Severo, Raduan Nassar, Martinho da Vila, Arnaldo Antunes, Mia Couto, Leci Brandão, Fernando Morais, Boaventura de Sousa Santos, José de Abreu, Frei Betto, José Celso Martinez Corrêa, Gilberto Gil, Flora Gil, Chico Buarque and Carol Proner among others.
4. The Lula Livre Bulletin is a a source of information which covers themes such as the national political conjuncture, the setbacks imposed by right wing extremist President Jair Bolsonaro and themes such as the imprisonment of the journalist Julian Assange, the unified May First protests and the Lula Livre Festival in São Paulo.
5. The radio documentary, "One year for Lula Livre" has produced its fourth chapter, entitled, "Election without Lula is a fraud." This episode deals with the facts that impeded Lula's candidacy for the Presidency of the Republic in 2018, recalling the UN Human Rights Committee decision made to guarantee that Brazil respected the political rights of the ex-President, to the removal of his candidacy, breaking with international treaties that were signed by Brazil.
6. On this Thursday, April 18th, the Lula Livre Vigil promoted a conversation round on the current political conjuncture in Brazil. The activity featured Dimas, who is a Political Science Professor at the Catholic University of Belo Horizonte.
Bulletin 423 – People's Committee in Defense of Lula and Democracy
Straight from Curitiba – 4/18/2019 – 377 days of resistance – 8:15 PM