Bulletin 422 – People's Committee in Defense of Lula and Democracy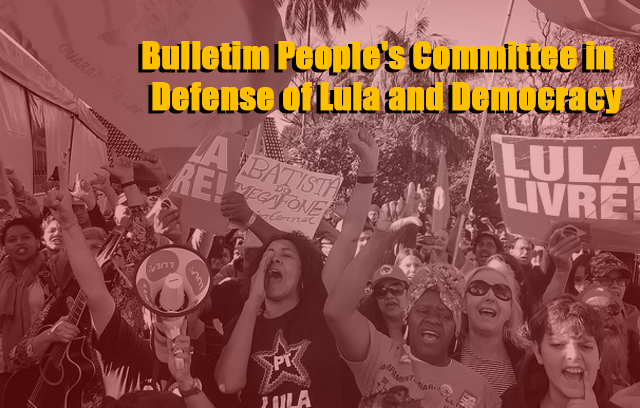 1. PT National President, Congresswoman Gleisi Hoffmann (Paraná) and PT Senator Rogério Carvalho (Sergipe) will visit Former President Luiz Inácio Lula da Silva on Thursday, April 18th. After the visit the lawmakers will hold a press conference in front of the Curitiba federal police headquarters which will be broadcast live on the networks of the PT, Lula and partner organizations.
2. On this Wednesday, April 17th in Recife, a book was nationally launched, by Editora Hedra publishing company entitled " A Constituição traída – Da abertura democrática ao golpe e à prisão de Lula"(The Constitution betrayed – from democratic opening to the coup and Lula's imprisonment). Written by historian and filmmaker Cleonildo Cruz along with Lana Cirne, a law professor from Pernambuco Federal University, the book arose out of the need to organize an analysis of the institutional rupture underway in the country.
3. Former President Lula, speaking through his support team, commentated on Twitter on Tuesday, April 16th, on an article published in the Folha de São Paulo in which movie director José Padilha apologized and admitted he was wrong in supporting the ex-judge and current Minister of Justice, Sergio Moro. "Imagine when he reads the sentence and discovers that Moro condemned Lula without proof, for 'undetermined acts', so that he couldn't run in 2018 and his boss, Bolsonaro could come to power," said the tweet on Lula's account.
4. On this Wednesday, April 17, a day that marks the 23rd anniversary of the Eldorado dos Carajás (Pará) massacre, when the police killed 19 landless peasants in a camp, the Lula Institute released a video from 1996 in which the ex-President speaks of the tragedy. After traveling to the Macaxeira Ranch, where the Landless Rural Workers Movement (MST) led an occupation at the time of the massacre, Lula said, "I think that it is a duty of our to not let the happenings in Eldorado dos Carajás be forgotten. […] The violence which was made against the rural workers could have just as easily been made against urban workers."
5. The Massacre of Eldorado dos Carajás was also remembered during the "Good afternoon President Lula," shout this Wednesday, (April 17) at the Lula Livre Vigil. MST activists who were present at the Vigil repudiated the lack of punishment for the assassins who committed the massacre, and also gave solidarity to former President Lula by highlighting the importance of hoisting the flags that are the symbols for the struggle and resistance for freeing Lula and for a democracy with respect and social dignity.
Bulletin 422 – People's Committee in Defense of Lula and Democracy
Straight from Curitiba – 4/17/2019 – 376 days of resistance – 7:05 PM