Bulletin 421 – People's Committee in Defense of Lula and Democracy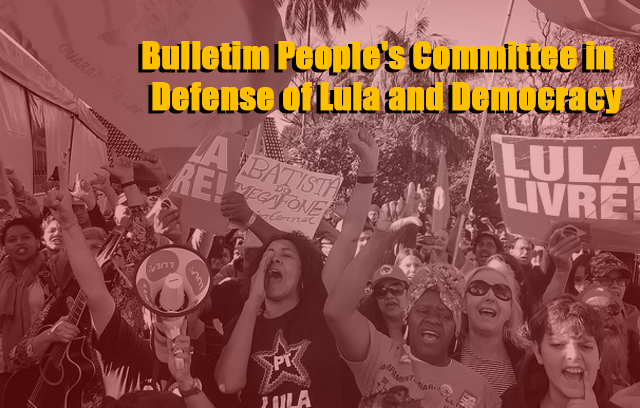 1. The French Euro Deputy Emmanuel Maurel filed a motion in the European Union Council requesting a written position on the political and legal persecution which resulted in the imprisonment of former President Luiz Inácio Lula da Silva. "There is no remaining doubt that his imprisonment was, above all, a political strategy to remove him from power," he wrote. Maurel said that no proof was presented against Lula and that the conviction was signed by an ex-Judge who was promoted to Cabinet Minister by Bolsonaro.
2. The political imprisonment of Lula was denounced in nearly 50 cities around the world in 30 countries. Brazilians and foreigners mobilized on April 7th, the date which completed a year of incarceration of the ex-President, to demonstrate that the persecution promoted against Lula would not continue in silence. The International Lula Livre Journey started on April 4th and finished on April 10th.
3. In banning, in a pointless manner, the Landless Rural Workers Movement's (MST) National Agrarian Reform Fair from being set up in Agua Branca Park on São Paulo's West Side, governor João Doria (PSDB-SP) provoked a huge reaction in the social media in favor of the event, which even mobilized former President Lula. It is the first time ever that anyone has banned the Fair, which sells organic products produced in the MST agrarian reform villages.
4. A new edition of the Lula Livre Festival is being scheduled for May 5th in Anhangabaú Valley in São Paulo. The event will feature the launching of a manifesto for freedom for the ex-President, who has been maintained as a political prisoner in Curitiba for over one year.
5. Today, April 16th, the good morning shout to the former President at the Lula Livre Vigil featured comrades from the National Education Workers Confederation (CNTE). Christovam, from the groups LGBT Collective, gave a greeting to the activists. "We support the Lula Livre campaign because freeing Lula is the only security we have of a truly democratic nation for everyone," he said.
6. On this Tuesday, April 16, at the Vigil, comrade Guilherme Uchimura, from the Consulta Popular, facilitated a conversation circle about the impacts of Vale mining corporations actions on the city of Brumadinho, Minas Gerais, the site of one of the world's worst socioenvironmental disasters.
7. On April 16th, 1982, the Supreme Military Court (STM) annulled all charges against Lula and another ten union leaders. They had been tried based on the National Security Law (LSN) for "inciting collective disobedience to the law," during the metalworkers strike in São Paulo's ABC region in 1980.
Bulletin 421 – People's Committee in Defense of Lula and Democracy
Straight from Curitiba – 4/16/2019 – 375 days of resistance – 7:30 PM