Bulletin 416 – People's Committee in Defense of Lula and Democracy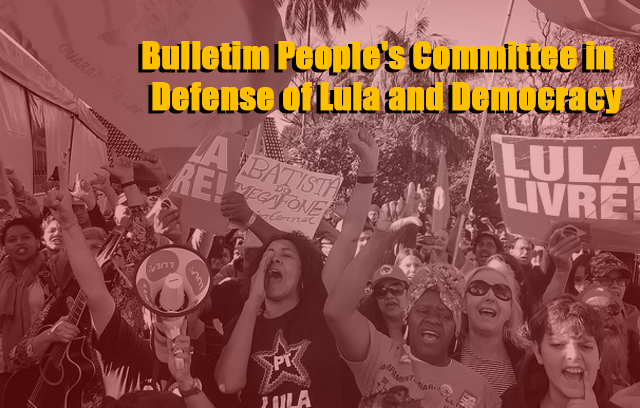 1. After one year of being held as a political prisoner, barred from giving interviews and appearing in public, and after years of unrelenting persecution by the conservative media which did everything to destroy his honor and his legacy, Luiz Inácio Lula da Silva is still evaluated by the majority of the Brazilian population as the greatest president the nation ever had.
2. The website Letters for Lula continues to publish new messages written by different characters to the ex-President, who has been detained as a political prisoner for over a year. The most recent letter is by Frei Betto, who was with Lula on the day of his first imprisonment, in 1980, and also in the Metallurgical Workers Union on April 7th of last year. "The more they try to silence you the more you grow. There are "Lula Livre" demonstrations going on around the world," he wrote, "nothing will silence you, Lula. […] You represent millions of Brazilians who did not sell their souls for virtual lies and unfounded legal accusations."
3. While Lula's supporters united in Brasília (DF) on Wednesday Afternoon (April 10th) in front of the Federal Supreme Court to protest against the delaying of a ruling which could result in his freedom, the National Flag on Três Poderes Square, symbolically, did not wave but curled up. This image drew the attention of the activists who were there in front of the Supreme Court.
4. The target of dozens of lies on the internet, Fábio Luís Lula da Silva, known as 'Lulinha', vented to Carta Capital after the one year anniversary of his father ex-President Lula's imprisonment. "I cannot accept that my father is in jail because of an apartment that we never owned, never used and never had the keys to," he said.
5. "Democracy in Brazil is called Lula". This is how Juan Carlos Monedero, founder of the Spanish political party Podemos, referred to Lula after visiting him in the Federal Police Headquarters in Curitiba last November. Since Lula became a political prisoner in April 2018, the city in Parana has become a stage for resistance.
Bulletin 416 – People's Committee in Defense of Lula and Democracy
Straight from Curitiba – 4/11/2019 – 370 days of resistance – 7:40 PM