Bulletin 398 – People's Committee in Defense of Lula and Democracy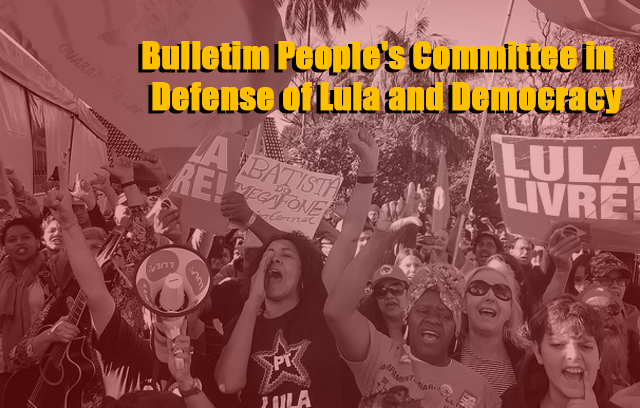 Ler em português
1. The International Committee for Peace, Justice and the Dignity of the People designed a postcard to show solidarity with Lula, using the same model used in the struggle that reached a global level and culminated, in December 2014, when the last three Cuban political prisoners (Gerardo Hernández, Ramón Labinino and Antonio Guerrero) were freed from incarceration in the US. The Committee, which is headquartered in Cuba, is made up of journalists, workers and Cuban activists and has members in countries around the world.
2. Current and former students in theater arts, visual arts, music, music therapy and dance from Universidade Estadual do Paraná (UNESPAR), came to the Lula Livre Vigil in Curitiba on this Saturday night, March 23rd, and demanded freedom for Lula during the ceremony. The leaders of the group, Clau Lopes and Aline Ramos made speeches while their colleagues held up signs saying, "Free Lula because Lula is Innocent." During the speech, the students said that the coup was "orchestrated by part of the judiciary, parliamentarians and the media," who removed legitimate President Dilma Rousseff from power.
3. The good morning shout to President Lula on Sunday, March 24, on the 352nd day of his political imprisonment, started with a song by João Belo. The Vigil also held a self-defense workshop for activists, lead by comrades Pamela and Amanda. Professor Marcia, who lived for several years in Cuba, was also in Curitiba, sharing her experiences in the Cuban education system.
4. Luiz Inácio Lula da Silva's struggle for the benefit of Brazilian workers has lasted over 40 years, since he took over the presidency of the São Bernardo and Diadema Metalworkers Union. Between then and now, Lula became the greatest President in the history of the nation and, for this, dozens of photos have been collected and 50 images will be auctioned off that illustrate the trajectory of the ex-President. The event will take place on April 3 in a bar in Vila Madalena, on the West Side of São Paulo, but people will also be able to bid online.
Bulletin 398 – People's Committee in Defense of Lula and Democracy
Straight from Curitiba – 3/24/2019 – 352 days of resistance – 6:30 PM