Bulletin 394 – People's Committee in Defense of Lula and Democracy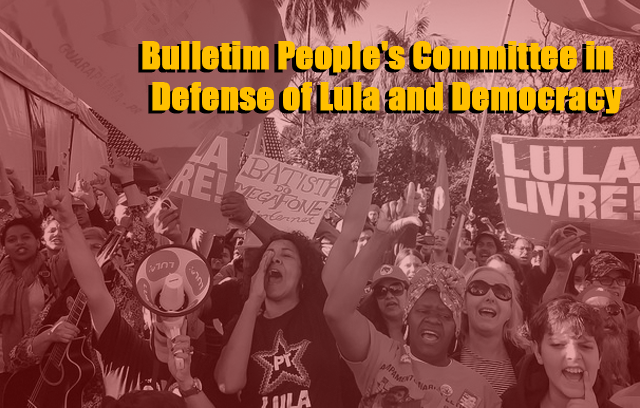 Ler em português
1. "They are setting up President Lula," said PT National President, Congresswoman Gleisi Hoffmann (Paraná), and PT Congressional Leader Paulo Pimenta (Rio Grande do Sul) today, in a video in which they make a warning about the next stages of the Lava Jato investigation. They pointed out that the testimony that the former President will make on this Friday, March 22, will be coordinated by officer Filipe Pace, who is the defendant in a case for damages suffered by Lula, and he is trying to include the ex-President on the Odebrecht list.
2. Guilherme Boulos, the leader of the Homeless Workers Movement (MTST) and one of the fiercist democracy activists in the country, visited Curitiba on this Wednesday, March 20th, and made a point of reorganizing his schedule to make a quick visit to the Lula Livre Vigil – the site of resistance which he has shown great respect for. "You are not alone. You have to know that you are being seen, respected and admired by thousands of people across the country who are defending democracy. The Vigil is performing a historic role," he said.
3. The Wednesday, March 20th, good afternoon shout to President Lula was special for Ariane, from the MST brigade. She was honored by the activists, who sang happy birthday to her during a round of singing. The songs were sung by everyone at the Vigil and they thrilled Ariane and Rosemary Gomes, the director of CUT/PR. She said that she was exited to hear songs about men and women's work in the country. "More than 80% of our food comes from family agriculture. These workers where never prioritized in the history of Brazil the way that they were during the governments of Lula and Dilma," she said.
Bulletin 394 – People's Committee in Defense of Lula and Democracy
Straight from Curitiba – 3/20/2019 – 348 days of resistance – 7:40 PM