Bulletin 392 – People's Committee in Defense of Lula and Democracy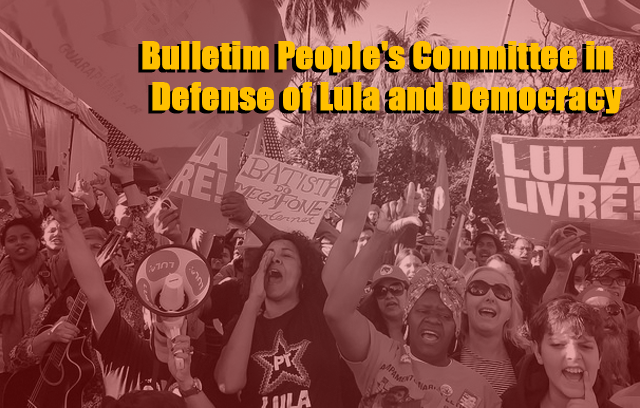 Ler em português
1. Cristiano Zanin Martins, the lawyer who is a member of ex-President Luiz Inácio Lula da Silva's defense team, released an official statement today calling for the annulment of the coerced plea bargain testimony that ex-Minister Antonio Palocci give on this Monday, March 18th, to a federal court, in which he admitted that the events detailed in his statements about Lula were not witnessed by anyone. To Zanin, it is more obvious than ever that Palocci, "negotiated for generous benefits with the authorities in exchange for his many dubious accusations against former President Lula."
2. PT National President, Congresswoman Gleisi Hoffmann (Paraná) participated in the "Good Morning President Lula!" shout this morning and spoke with the activists at the Lula Livre Vigil. She emphasized that the struggle for Lula's freedom is connected to Brazilians' struggle against the removal of historic rights underway by the current right wing extremist government. Gleisi said that during Lula's government retirement benefits were expanded, guaranteeing social security for the Brazilian workers and she warned of how these achievements are under threat by Jair Bolsonaro.
3. The Lula Livre protest, which will unite activists throughout cities across Brazil and in various parts of the world against the arbitrary imprisonment of Lula, will take place from April 7-10, with widespread people's demonstrations for freedom for the ex-President. April 7th will mark the one-year anniversary of Lula's arbitrary imprisonment, after he was convicted by a judge who became a politician.
4. An inter-religious ceremony was held during the evening of Sunday, March 17th, at the Lula Livre Vigil. Pastor Israel preached a message of strength for the activists who are camped out near the federal police headquarters in Curitiba, and spoke of the demonstrations which have been held there for nearly a year. "Sometimes people are in ignorance, they don't understand the proposal. They don't even know why Lula is in jail – and we are the ones who have to be the echo of Lula, his megaphone," he said. The service ended with a 'good night' shout to the former President.
Bulletin 392 – People's Committee in Defense of Lula and Democracy
Straight from Curitiba – 3/18/2019 – 346 days of resistance – 7:25 PM