Bulletin 355 – People's Committee in Defense of Lula and Democracy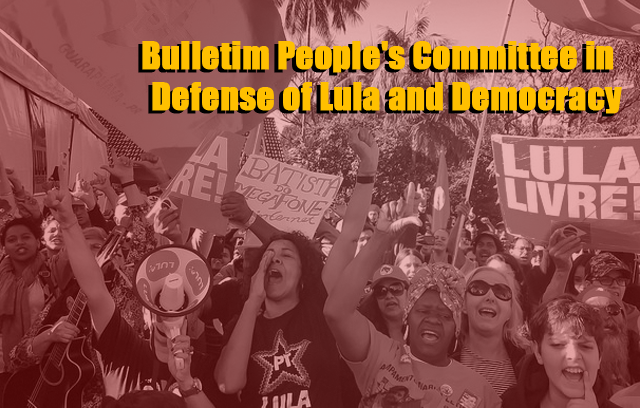 Ler em português
1. The commemoration for 39 year anniversary of the PT in São Paulo on this Saturday, February 9, had the theme of freedom for ex-President Luiz Inácio Lula da Silva, who has been a political prisoner since April 2018. Federal Congressman and PT leader in Congress, Paulo Pimenta (Rio Grande de Sul) said that, "nobody would like to be in this demonstration more than Lula". Humberto Costa (Pernambuco), the party leader in the Senate, emphasized the importance of continuing the Lula Livre campaign and said that the former President is "the greatest symbol of the Brazilian people." Federal Congresswoman and PT President Gleisi Hoffmann (Paraná), remembered that Lula was the first working class president ever elected in Brazil, while Fernando Haddad, PT's presidential candidate in 2018, said, "today we commemorate 39 years of existence of the party that changed the face of Brazil and opened horizons for those who had never dreamed of a better life." The yell of "free Lula!" echoed through the Bank Workers Union hall, in downtown São Paulo. Watch the special video on the PT's 39 years here: https://youtu.be/lEkqSkmExb8
2. On this Saturday, there were early celebrations of the Workers Party's anniversary, which tomorrow marks 39 years since its founding. In different demonstrations held in Brazil and abroad, activists from across Brazil remembered President Lula and his condition as political prisoner, victim of arbitrary processes that were contaminated by the political and ideological positions of judges who are merely supposed to follow the law. In São Paulo, for example, the Bank Workers Union Hall was packed with activists who, synchronized with the Lula Livre Vigil in Curitiba, yelled good afternoon to the former President.
3. Former President Luiz Inácio Lula da Silva was honored this Saturday, February 9, in Germany, during the Berlin Film Festival, one of the most important cinematographic events in the World. The homage was made by the director of the film, "Querência," Helvécio Marins Jr., during its premiere. The director wore a t-shirt that referred to the ex-President, said that he "loves" Lula and denounced his imprisonment as, "one of the most absurd things in the world." "It is an embarrassment for us Brazilians. Lula is the biggest and greatest President in the history of Brazil," he said, to applause and shouts of "free Lula!". Read more here: https://tinyurl.com/yxzuyzxu
4. Today in the Lula Livre Vigil in Curitiba, the journalist and writer Nicodemos Sena, architect and lawyer Maril Perim, from PT Tabuaté (São Paulo), the popular educator Geraldo Pastana and teacher Maria Antônia (Toninha) from PT Belterra (Pará) facilitated a conversation circle on the theme of "Lessons from the struggle for the current moment". With participation of activists from caravans that arrived from Florianopolis and the Baixada Santista, the conversation circle was lively and divided into discussion groups.
5. The good morning and good afternoon shouts to President Lula on this Saturday featured the participation of activists who arrived in bus caravans from Florianopolis and the Baixada Santista and women from the UBM (the Brazilian Woman's Union). During both demonstrations, activists emphasized the importance of increasing the movement for freedom for the ex-President, and reminded everyone that he has been a political prisoner since April 7, 2018, victim of the greatest judicial persecution in Brazilian history, in trials in which the judges violated the laws and the Constitution without the minimum concern.
Bulletin 355 – People's Committee in Defense of Lula and Democracy
Straight from Curitiba – 2/9/2019 – 309 days of resistance – 9:25 PM